In Consequences of a Hot Havana Night (Passion in Paradise #6) by Louise Fuller, Kitty Quested is normally a rather shy, hard-working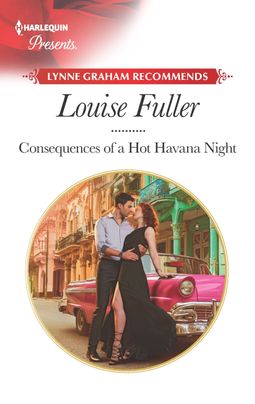 woman who focuses on family and her career as a rum distiller instead of her social life. But a chance encounter with a handsome man has her swept away with lust when they share an incredible night together in Havana. A night that it turns out changes Kitty's life and that of César Zayas, who, unbeknownst to her, is her boss. It was awkward enough to find out about their boss/employee status, but the fact that Kitty becomes pregnant certainly makes it even more so. And considering neither of them want a long-term relationship, things are about to get exponentially more complicated.
"I don't regret it," she said abruptly. "What we did or what's happened."
…"Well, it's a little late for regrets." He paused. "This baby isn't going anywhere. What matters now is what happens next."
Consequences of a Hot Havana Night was just as sultry and passionate as the title suggests. Not only did I fall for our adorably clueless couple, but I also fell in love with Cuba itself, which turned out to be a wonderful backdrop for this romance to unfold.
'This man had stepped into her path–or rather she had stepped into his–and now she could feel love and hope working through her veins.'
Boss/employee romances can be a whole lot of fun. And in this story we also had a surprise pregnancy which added a whole other level of tension to Kitty and César's relationship. Or non-relationship, actually, as they both tried so very hard to *not* fall in love, each for their own justifiable reasons. I loved how genuine Louise Fuller created our hero and heroine, and that we learned a little bit at a time about what it was in their past that caused them to avoid romantic feelings at all cost.
Cuba was like another character in the story, as we got to see so much of the country, with Fuller vividly describing the people, some of the island's fascinating history, and even the local indigenous animals. The meet-cute between César and Kitty was actually because of some wild horses on a wooded trail and that set things off on a great note for me. It showed the couple's passion as well as parts of their personality that not many people got to see, but helped them form a tenuous bond right away. Such fun!
With likable characters who felt destined to be together and an exotic locale that will delight readers, Consequences of a Hot Havana Night was an exciting, heartfelt story that had a timeless feel to it.
Book Info:

Publication: Published August 20th 2019 | Harlequin Presents | Passion in Paradise #6
A scorching encounter in the Cuban heat…
Now she's carrying her boss's baby!
The wild vibrancy of Kitty's new home in Havana must be infectious. Why else would the naturally cautious rum distiller have succumbed to the sudden desire to seize one night with a stranger? But if it's shocking to learn that César is actually her powerful, elusive boss, it's nothing compared to Kitty's latest bombshell—she's pregnant!
Lose yourself in this sparkling pregnancy romance!