In Contracted for the Petrakis Heir by Annie West, having sex with Adoni Petrakis seemed liked a good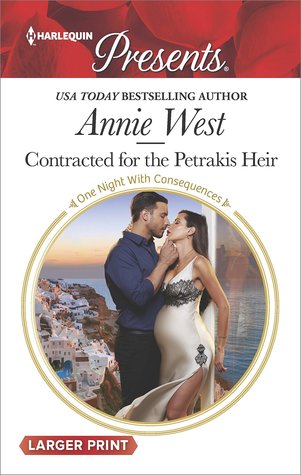 idea at the time, but now Alice finds herself pregnant. Unfortunately, she can barely take care of herself, so how is it possible she's going to be able to care for a child. Going to the unborn child's father seems the only option, but she never expected him to be so spiteful in offering her a contract with conditions he expects her to follow. Will Alice be able to convince Adoni that she can trust him, so they have a shot at happy ever after; or will she walk away because the contract is ridiculous?
"You needn't worry that you'll be disadvantaged in any way," he said quickly, making her wonder how he'd interpreted her frown. "My legal team has drawn up an agreement so you'll be looked after."
"Looked after?" She sounded like a parrot but she had trouble following his logic. She'd thought Adoni would look after her, and vice versa. Surely, if they were partners –
"While I'm alive and even if anything should happen to me, you'll be taken care of."
"I think you need to explain."
Adoni nodded. When he spoke his tone was brisk. Yet still she saw a glaze of heart in his scrutiny. "We sign a contract. I will support you with a generous allowance."
Surprise pregnancy trope encompassing stories can produce some really good tension on the pages between main characters, especially when the hero questions the heroine's motives and hears things second-hand about her that make him question them even more. And certainly, this story provided this reader with such a plot that was fast-paced, entertaining and had me enjoying this couple's growing relationship because both need to decide whether they can put their trust in the other. Will the hero realize how much Alice means to him before it's too late? Will Alice decide to sign the contract or not?
The way this story started had me sympathizing with the hero, as weddings aren't his thing. However, it was from the moment the hero and heroine came face-to-face for the first time in this book that had me amused, because of the way the heroine is acting and the fact that she confesses something she shouldn't to a stranger. Will Adoni be able to give her what she wants? Furthermore, I really enjoyed both of the main characters back stories because the hero knows what it's like to have to start over after the fallout with his father and the heroine knows what it's like to have people believe the worst of her. Will they both help each other to heal from the hurts of their pasts to be together?
As for the heroine, she's resilient, kind, has strong ties with people she's known for years, and I liked how determined she was to do everything she could to be a good mom once the baby is born. I also liked that she was willing to give the hero a chance, even though – at times – it didn't feel like she had much of a choice at all. The hero certainly isn't about to allow her to go through her pregnancy alone. While the hero, he's worked hard to get to where he is in his life and I could understand why he'd rather leave the past in the past after what the man that raised him did. I could also understand why he doesn't trust women and wants nothing to do with marriage after what his ex did. How could she just up and leave when things got tough like she did?
Overall, Ms. West has delivered a wonderful read in this book where the chemistry between this couple was intense and instantaneous from the moment they met; the romance was delightful and had me hoping that Adoni would be able to fully trust Alice; and the ending had me loving what the hero does for the heroine by giving something precious back to her. I also loved his words to her and that he shows her that love and happiness are everything he could ever want. Yet, it was the epilogue that wrapped this story up nicely, as the hero and heroine are very happy together and prove that love is worth fighting for. I would recommend Contracted for the Petrakis Heir by Annie West, if you enjoy the surprise pregnancy trope or books by authors Sharon Kendrick, Carol Marinelli, Dani Collins and Julia James.
Book Info:

Publication: February 20th, 2018 | Harlequin Presents |
"I'm pregnant."
But this baby bombshell is nothing compared to Adoni's scandalous solution!
A positive pregnancy test isn't the only reminder Alice has of her one scorching night with Adoni Petrakis. As she defiantly tells him the news, memories of his skilled touch overwhelm her! The contract he draws up—to claim her, and his child—is utterly shocking. As is her realization that she's still powerfully, inescapably, in thrall to this vengeful Greek!