In Cowboy Dreamin' by Starla Kaye, readers are treated to the delightful matchmaking services of Madame Evangeline. If you have read any of stories from the 1Nightstand line by Decadent Publishing then you are familiar with the miraculous (and often devious) talent she had for bringing together unique couplings.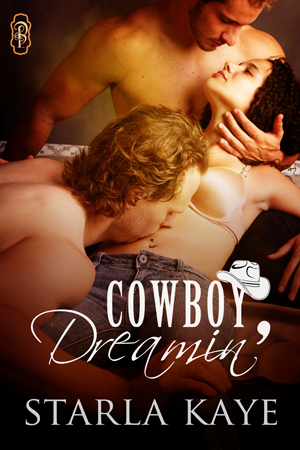 Kendra Barlow is in desperate need of both a vacation and an orgasm that is not self-induced. Although she has made a life for herself on the beautiful island of Kauai she still misses the Midwest. Originally from Kansas, she fantasizes about being whisked away from her daily commitments by a sexy cowboy. Her friend, Alexis, suggests she engage the services of Madame Evangeline to fulfill her cowboy fantasy.
The relationship between Shane Carter and Carson Donnely could be defined in many ways – partners in the Double C ranch, best buddies and even occasionally lovers. After hearing about his neighbor successful love match, Carson signs up Shane for the same matchmaking service hoping for a similar outcome. However, when the arrangements are finalized it seems that the elusive Madame Evangeline is more intuitive than Carson first thought – it is a date for Shane, Carson and Kendra.
I had a three issues with this story (1) misleading description, (2) lack of dialogue, and (3) resolution. First, it is listed as a ménage and while it does involve 2 men and a woman – I do not feel that the three formed a true ménage (it is M/M and M/F). Second, as a reader, there are situations that spark my need for explanation. The circumstances in this story surrounding the lack of protection is one of those situations. However, the resolution of the story is what disappointed this reader the most. The author put together a great story then rushed the conclusion. I understand that the 1Nightstand line does not necessarily always end in a HEA, but it seemed that was the intention, yet it fell short.
Book Info: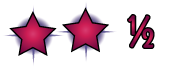 Published February 11th 2014 by Decadent Publishing Company, LLC
Kendra spends her days and nights running a business, sculpting, and leading a Tahitian dance group in Kauai. She can't squeeze anything else into her life, but she dreams of cowboys. Sexy, hot cowboys in tight jeans, low-tipped Stetsons, and dusty boots. Men who know all about how to please a woman. She enjoys her fantasies, but can't imagine ever settling down. But one night with one would be so nice. Surely that would get her dreams of a white knight cowboy sweeping her off her feet out of her system.
Because of an accident that Shane believes left him "less of a man," he doesn't see a wife and children in his future. Carson, his ranching partner—and sometimes lover—thinks Shane is wrong. Carson refuses to let Shane settle for a life of rodeo bunnies who only want a romp in bed with a bull rider. Shane deserves more than that. He manages to sign Shane up with a matchmaking service to, hopefully, meet another kind of woman, maybe someone who will appreciate Shane for the man he is. Except Madame Evangeline expects both of the cowboys to go on this special one night date. It doesn't take long for either cowboy to realize that one night with the purple-haired, hip-shaking beauty in Kauai might not be enough….