Cowboy Firefighter Christmas Kiss (Smokin' Hot Cowboys #5) by Kim Redford: Do you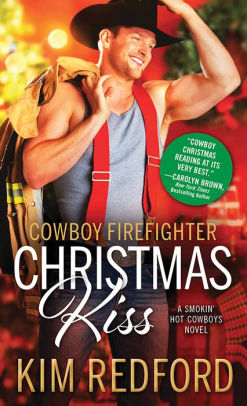 believe in love at first sight? I bet after you read Cowboy Firefighter Christmas Kiss you will. Cowboy Firefighter Christmas Kiss by Kim Redford is the fifth book in her Smokin' Hot Cowboys series.
Slade Steele is a "jack-of-all-trades," so to speak. He's a cowboy, a firefighter and excellent cook and baker. He's also falls madly in love after walking into his town's honky-tonk, Wildcat Hall and meeting Ivy Bryant. Ivy just arrived in town to manage Wildcat Hall after her country singer sister, Fern very abruptly left down for a gig on a cruise ship. Fern and Ivy jointly own Wildcat Hall. Ivy is from Houston and is a city girl. Slade is determined to make a country girl out of her. There's no doubt there's lots of chemistry between these two. But it will take more than instant attraction to make Slade's case with Ivy. He has lots of help though.
The whole town of Wildcat Bluff has welcomed Ivy and all that small-town support and love is hard to resist. You know, though, that there will be bumps along the road to a HEA for Ivy and Slade. Don't you want to follow along?
Ms. Redford once again gets the recipe for a fun read just right. (Fantastic recipes are included at the end of the story).Her characters are realistic and likeable. The storyline flows smoothly with fun scenes, lots of humor, good food and hot sex. There's also a sweet little girl who believes the stud bull stolen by rustlers, who also happens to be her friend, will be home for Christmas. She totally believes Fernando can make it. There's lots of action and exciting Christmas events too. I loved the interaction of the characters, the togetherness of the town and the Christmas spirit. I loved this book!

Book Info:

Publication: October 29th 2019 | Sourcebooks Casablanca | Smokin' Hot Cowboys #5
The firefighting cowboys of Wildcat Bluffs take Christmas VERY seriously…
When Ivy Bryant arrives in town to run the historic honkytonk, she finds herself immersed in traditions that can't be bucked. Luckily, cowboy firefighter Slade Steele has an idea to increase both the honkytonk's income, and his own. It's an offer Ivy couldn't refuse, even if the passion between them wasn't already reaching the boiling point.
Ivy and Slade's love story is legendary–when you add in arsonist cattle rustlers, a runaway Angus bull, and a chili recipe that includes liquor AND chocolate, Wildcat Bluffs will be celebrating a cowboy Christmas unlike any other.