Cowboy to the Core by Maisey Yates is a sexy workplace romance for a tomboy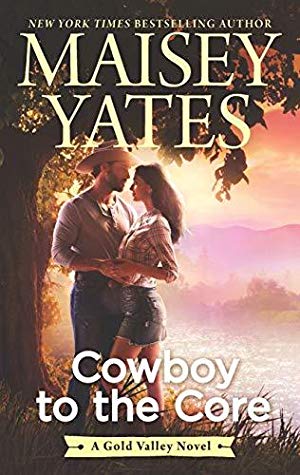 ranch hand and her boss. It's the sixth story in her western themed Gold Valley series, set in rural Oregon.
Having grown up in an all male household after the death of her mother shortly after her birth, Jamie Dodge has tried to model herself as just another one of the boys to fit in with her older brothers and work on the Dodge family ranch. But she's realizing that it's time to branch out. She's decided she wants to join the barrel racing circuit and while she works on her training, she also gets a job on a nearby ranch to start to separate herself from her sometimes overbearing but well meaning brothers. They've all partnered up recently and this makes her very aware of her single status.
Gabe Dalton shouldn't be attracted to Jamie, his friend's younger sister and his employee. Having retired from the bronc riding circuit and taken over the Dalton ranch while he thinks about his future, working with horses again is a soothing pastime. He needs Jamie to help train the horses on his family ranch, horses who come from rescue situations or have been retired from rodeo circuits, and getting involved with the tough talking, confident woman could cause them both problems. But Jamie isn't immune to Gabe's charm and soon they are involved in a heated secret affair. Can it lead to something more?
I've been enjoying this cowboy/cowgirl series by Maisey Yates and once again she delivers an enjoyable and sexy read! Because it's the sixth in the series, there are lots of secondary characters and some family intertwining (Gabe's recently discovered sister is partners with Jamie's brother). Family drama is also a big part of the story. Gabe's father Hank was a philandering, cheating playboy who has since changed his ways but it irreparably damaged their relationship. He's also recently found out that his mother was keeping secrets too and all these revelations are making him question many things, including his ability to commit to a relationship. He's up front with Jamie that their relationship will be a friends with benefits deal only (which is of course destined to fail).
Jamie has her own family issues. As the only girl in a family of boys and with no maternal influence, she's lived her life keeping her emotions to herself and keeping her femininity under wraps. She's used to speaking her mind and has no problem doing so with her brothers, or with Gabe despite him being her boss. But she also has a hidden vulnerability because of this upbringing. She has difficulty wrapping her mind around the fact that Gabe is attracted to her, as she is physically the opposite of the type of woman he's usually seen with who play up their feminine attributes. Jamie is lean and muscled and has no time for makeup and fancy clothes. But Gabe finds her attractive for her body and her mind. Their first time having sex is an emotionally cathartic experience for Jamie and though they want to keep their relationship to sex only, the fact that they can share things about themselves they've never shared with anyone else cements their friendship and soon leads to deeper feelings.
Jamie and Gabe have some hurdles to get through to get to their happy ending but the story maintains a lighthearted feel. There are plenty of scenes with friends and family and the ranch setting means a good portion of the story is the day to day work with the horses. Jamie's barrel racing practices are exciting to read. It's a great story to immerse yourself in the day to day lives of the Dalton and Dodge families. I look forward to continuing the series!
Book Info:

Publication: June 18, 2019 | Harlequin | Gold Valley #6
Gold Valley's wildest cowboy has finally met his match…
Jamie Dodge is confident she knows everything there is to know about cowboys. She grew up surrounded by them, after all. But somehow her new boss, champion saddle bronc rider Gabe Dalton's brand of cowboy charm has her interested in all kinds of things she never has been before.
There are a million reasons Gabe should ignore his attraction to Jamie. He needs her horse-training skills on his family's ranch…and the Dodge brothers would happily hurt him for touching her. Forget kissing her. He'd be a dead man. But Jamie's tough-talking attitude masks an innocence that tempts him past the breaking point…and soothes the restlessness that's dogged Gabe his whole life. Has this cowboy finally found a place he wants to call home?