In Crave (Billionaire Bachelors Club Series #1) by Monica Murphy, Archer Bancroft has made a huge success out of his father's old hotel, turning it into an exclusive couples-only spa, which in turn, made him into a billionaire. He loved proving his father wrong when he was set up for failure on the project. Now he has the opportunity to create an even more exclusive couples retreat but he is on a major time crunch. He needs to hire an interior designer right away and knows just the person for the job: his best friend Gabe's little sister Ivy Emerson. So what if he may have a thing for her. He can keep it professional. Or so Archer tells himself when he and his two best friends, passing time at a wedding, make a bet over which will be the final man left not in a relationship. Unfortunately Ivy is there that night and down in the dumps after breaking up with her boyfriend. She and Archer have a love/hate relationship which mostly consists of them arguing and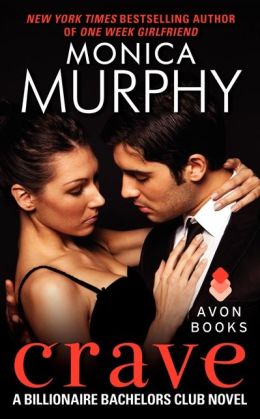 antagonizing one another. He stops by to make sure she's alright and they share an intimate dance together until he lets his arrogant mouth get the better of him. Archer tracks her down outside, determined to apologize. He gets more than he bargained for when he sees how beautiful she looks out in the moonlight and they have several wildly passionate moments together. They are almost caught when Gabe shows up, ready to take Ivy home, and Archer talks them into just staying the night at his house nearby. He knows it's not a smart idea as he doesn't want to anger his best friend, but he has to be close to Ivy.
"I realize you enjoy chasing everything in a skirt, but I know you won't take advantage of my sister. Right?"
The pointed look he gives me rings loud and clear. I want to promise him I won't take advantage of her. But he's talking about Ivy…and I always want what I can't have.
Especially her.'
Archer shows up at Ivy's bedroom door that night, having no idea what he expects to happen. He's not a relationship guy but he doesn't want to just have a fling with her either. When she responds to him by being bold and making the first move, he can't believe how incredibly lucky he is to be with her. Their connection is so deep emotionally that it scares him to his core. He's shocked yet again when she tries to be nonchalant and treat their time together as a one night stand. Archer takes Ivy and Gabe on a tour of his spa the next day as promised, after a night of no sleep, spent yearning for more time with her. She seems impressed with the atmosphere at the retreat but yet again his mouth gets in the way and Archer ends up pushing her away by confusing her with his intentions. During their time apart, a plan starts to formulate how he can hire her as the interior designer for his new spa. She's obviously reluctant at first but he finally gets her to concede. Due to the time constrictions, he talks her into staying with him locally so they will have ample time to complete the job. Ivy openly discusses their previous time together and they come to an agreement on how they will handle their intimate relationship, knowing there is a set time limit on it. But when their work together is done, will Archer be able to give up the woman who has changed his life in so many wonderful ways?
'He makes me insane. His scent, the way he watches me with that calculated, hot gaze. His mere presence warms my skin, sets fire to my blood. Floods me with memories of our one amazing night together. I both cherish and hate those memories.'
Ivy Emerson has had a crush on Archer Bancroft since he moved into her neighborhood when she was in her early teens. He befriended her big brother and spent time at their house picking on her and generally creating havoc. Now he's grown into a powerful businessman who has a playboy image. He's damaged, he's a bad boy…and he embraces it. She's still getting over a breakup when he approaches her at a friend's wedding, asking her for a dance. Ivy is pleasantly surprised at his behavior until his arrogance inevitably begins to come out. But when Archer actually apologizes and then kisses her, she knows she can't hide her attraction to him any longer. She somehow ends up spending the night in his guest room, directly across from her big brother's guest room that night. Archer knocks on her door and all thoughts of staying away from him fly out the window. Their stolen time together is the most amazing thing that has ever happened to her and it more than freaks her out. Ivy basically pushes Archer out the door, knowing she needs to break things off before she can get hurt. But then after a confusing conversation the next day, she doesn't hear from him for a month. She pines over him, not sleeping, immersing herself in her work. When he suddenly reappears in her life, offering her an opportunity to do the interior design for his new spa, she thinks he's crazy. But she wonders if she's really the crazy one for not only taking him up on the offer, but for falling even further in love with him during their two weeks together.
Monica Murphy's first book in the Billionaire Bachelor series is a great way to begin. The story switches back and forth from Archer's to Ivy's points of view, giving us a glimpse into both of their heads, which was very interesting. There's a good bit of self-deprecating humor mixed in with the passion, plus a sarcastic undertone. I definitely enjoyed that. 😉 Archer and Ivy heated up the pages with their intense romance. They seemed to bring out both the best and worst in each other until they gave in to their feelings. Then things clicked perfectly. Until Archer stuck his foot in his mouth again, that is. I think you'll enjoy this contemporary romance if you like powerful, sexy businessmen and smart, sassy women who know exactly what they want.
Book Info

Publisher: Avon Impulse (August 13, 2013). 
Series: Billionaire Bachelors Club
 #1
New York Times bestselling author Monica Murphy launches her sexy Billionaire Bachelors Club series with a lavish bet, a night of carnal desires, and a forever that never seemed possible.
Billionaire Archer Bancroft always gets what he wants—and he's wanted Ivy Emerson, his best friend's sister, for far too long. Being forbidden and untouchable only makes her more tempting. When a million-dollar bet with his friends throws down a challenge—last bachelor standing takes all—Archer knows he can win. That is, until one enchanted evening with Ivy takes his heart for a ride.
Ivy knows Archer is nothing but bad news: infuriating, arrogant . . . and completely intoxicating. But despite her best efforts, she can't seem to keep away. When a stolen kiss leads to a night of heated passion, Ivy realizes she's in trouble and in head over heels.
But in the light of day, everything seems clearer, and Archer's not so sure a one-night stand is all he wants. Concocting a plan to keep Ivy by his side, Archer might just be willing to lose this bet . . . and win the jackpot instead. An Avon Romance