Crushing on the Cowboy of Sarah.M.Anderson is a male/male romance novella, and part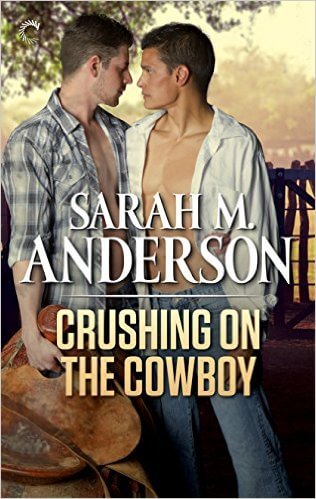 of the Rodeo Dreamers series. Mitch is a bull rider on the circuit and plays the role of the Heartbreak Kid, romancing the ladies and 'breaking their hearts' as it were. In truth, he doesn't really feel an attraction towards women, but it's part of the persona he's built up and he's stuck with it for the time being. When he meets Paulo, a Brazilian bull rider who has joined the circuit to learn American bull riding techniques to teach back home, it's a wake up call for Mitch. He's had some feelings towards other men but never acted on them. His intense attraction to Paulo startles him, but it soon becomes clear that Paulo feels the same way. Navigating their way towards a relationship is an awkward affair, with Mitch still a virgin and in the closet, and Paulo barely speaking English. Can they find enough common ground to make things work out for them as a couple?
There's a bit of awkwardness to the start of this story in the sense that I felt like I'd been dropped into the middle of an established storyline without a lot of background information. I think this is because it's the third story in a series, where these two men have been secondary characters in the rodeo circuit books prior to this one, and this story is meant to fill in some of the details of their relationship for established readers. This comes through in the epilogue as well, which takes place 4 years after the main story, and mentions characters that up to then had never been mentioned before, and so came as a surprise to me (having not read the other books in the series). As a result it's not truly a standalone story, as there is an assumption that you know who these characters are already. Still, if you focus on the romance part and don't worry too much about their character histories, (and ignore the epilogue which is just too much of a jump in the story to make sense with the rest of it) it's readable on its own.
So, the part of the story that I did like, and the main part of it really, was the romance between Mitch and Paulo. It's the author's first m/m story, and I think she got the uncertainty of Mitch's character as a virgin and just figuring out that he's gay down pat. His age is also well reflected – at 21, he's worried about the consequences of coming out, especially in the small religious towns where the rodeo goes. He's nervous about kissing a guy, and exactly how things work in bed together. But he's still willing to give things a chance with Paulo, because the temptation is too much to resist.
Paulo is a bit more of an enigma, though we do get to hear his 'voice' as the story is told from both points of view. As a portuguese speaking man, that was obviously a key part of his character and though I don't speak the language, I'm going to assume that the author's use of it is correct, and it certainly added to the story. Though there are sometimes english explanations for them, at other times there are not and I had no trouble following the story, and I thought it definitely added to the authenticity of Paulo's character. I also appreciated how, though he had had a few boyfriends in the past, he understood Mitch's hesitation and never pushed him into anything he wasn't ready for. Part of that had to do with a previous bad sexual experience on his part, but it was also from understanding Mitch's situation and his inexperience.
We get a little bit of the rodeo world in the story too, with some scenes from the bull riding and the interactions with some of the other riders. Mitch's attempt to emphasize to Paulo how the other riders would treat them if they were affectionate in public was understandable but made me sad too. For Paulo, growing up in Brazil and with the support of his family , experiencing this kind of prejudice and discrimination was new to him and difficult to understand. Having to hide his feelings for Mitch was difficult (and vice versa) and leads the plot of the second half of the story.
Overall, I quite enjoyed the story, despite the issues mentioned above. The romance is a combination of awkward and endearing, with some very sexy scenes (I almost think that it borders on an erotic romance). I look forward to reading more from this author.

Book Info:

Publication: June 27 2016 | Carina Press | Rodeo Dreamers #3
As The Heartbreak Kid, Mitch Jenner is known as the biggest womanizer of all the rodeo cowboys—but it's just an act to keep himself safe. In fact, Mitch is so afraid of coming out that he's opted to stay single—and a virgin. He's fine with being alone…until he meets the mysterious Paulo.
Paulo Bernardes is here to learn the American style of bull riding well enough to teach it back home in Brazil. A namorado—a boyfriend—will distract him from his goal, but he's captivated by Mitch, who understands him even when they don't speak the same language. In return, Paulo wants Mitch to accept himself—and their relationship.
In private, Mitch yields to his attraction to Paulo and is rewarded with a heat and tenderness he comes to crave. But he still fears exposing their relationship. And as they grow closer, Paulo wonders how he'll live without Mitch once their time together is up—how he'll pick up the pieces of his heart when it's time to say goodbye.