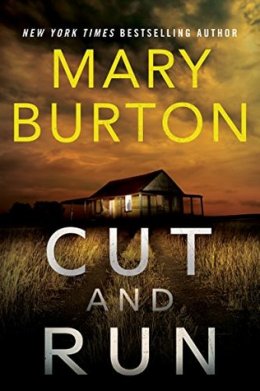 Author Mary Burton has a super suspenseful story in her latest book, Cut and Run. Twin sisters separated by the past are reunited by unspeakable crimes…
The heroine of this story, medical examiner Faith McIntyre is one tough cookie. She doesn't hesitate to step in and investigate some strange happenings including trying to solve the puzzle of why a woman who looks exactly like her is in town and found close to death in a dark alley.
Our hero, Texas Ranger Mitchell Hayden is with Faith all the way. He is determined to protect her and keep her safe.
Mary Burton always delivers when it comes to well-written, fast paced, thrilling suspense stories. Cut and Run is no exception. I loved the suspenseful storyline and the thrilling end. I highly recommend this book!
Book Info:

Publication: October 9th 2018 | Montlake Romance |
Twin sisters separated by the past are reunited by unspeakable crimes in New York Times bestselling author Mary Burton's throat-clutching novel of suspense…
Trauma victims are not new to medical examiner Faith McIntyre, but this one is different. The unconscious woman clinging to life after a hit and run is FBI agent Macy Crow. What the woman from Quantico was doing in a dark alley after midnight is just one mystery. The other is more unsettling: Macy is Faith's mirror image—the twin sister she never knew she had.
Faith knew that she was adopted, but now she's finding that her childhood concealed other secrets. Following the trail of clues Macy left behind, Faith and Texas Ranger Mitchell Hayden make a shocking discovery on an isolated country ranch—a burial ground for three women who disappeared thirty years before.
They weren't the only victims in a killer's twisted plot. And they won't be the last.
As the missing pieces of Faith's and Macy's dark lives snap into place, Faith is becoming more terrified by what she sees—and by what she must do to save her sister and herself from the past