Dark Hearts (Secrets and Lies #3) by Sharon Sala is an outstanding,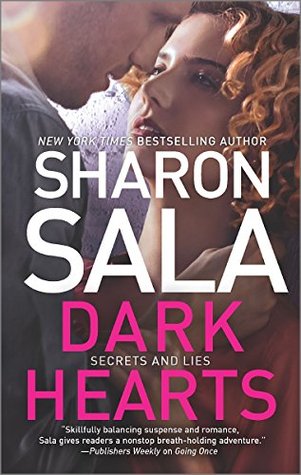 exhilarating read that I could not put down!
Dark Hearts picks up where Cold Hearts left off with the mystery, suspense and murder that is linked to Sam's mother's high school graduating class. When his mother is killed in cold blood and his sister gravely injured, Sam finally returns to his hometown after years away. Injured physically and emotionally from war, Sam chose to stay away. Not only from his family but from the love of his life – Lainey. As Sam is immersed in his hometown with so many familiar places and faces, regrets consume him. Haunted by his mothers death and the unsolved crimes, he is determined to hunt down a killer. Seeing his sister so injured makes him realize he stayed away too long. Seeing Lainey again, with all the old feelings rushing back, makes him realize he stayed away for all the wrong reasons. Will the murderer be caught and will Sam take this second chance with his life?
Lainey has never gotten over Sam, the hurt and the feelings of desertion. Seeing him again brings it all back for her too, and soon they both realize they can't fight their feelings for long. But can Lainey forgive Sam and take another chance with him?
Sam and Lainey are a strong hero and heroine. They both pulled on my heartstrings, but Sam a little more because of what he went through that brought him to where he is today and what he is going through today. I liked his determination and that he wasn't blind to change, and he could see where he might have made mistakes in his life. I really felt like Sam was finally ready to move on. I liked how he was with his family, I could sense that even though they'd been apart for a long time the connection and love was still there. I liked how he was with Lainey too. He was cautious and hopeful but not pushy. Lainey is a great heroine. Even though she's never truly gotten over Sam she's moved on with her life and is not filled with bitterness. Yes, the anger is there, but she is able to see past that and not hold on to it forever. I loved how they were together, how they both knew that they were different people now, but at the same time very much the same. Sam and Lainey are mature, realistic main characters.
There are strong secondary characters without whom the story would not be the same. I liked the carry over and follow up from other books in this series with them. I liked how Sam's family was with him. There is no blame or guilt placed, just understanding and happiness that he is finally back, even if under drastic circumstances.
Written in multiple POV's, it is interesting to have a birds eye view into the mind of the killer. Nothing identifying, but enough to realize how twisted the person is. Sharon kept me guessing until close to the end because there are a few possibilities!
Expertly woven together, the suspense of murders in a small town and the regrowth of Sam and Lainey's relationship mesmerized me. I really enjoyed Dark Hearts! With a good mix of fear, sorrow, hope and love, I was emotionally invested in the story and was left with such a sad/happy feeling that these characters will all stay with me for a long time! I would recommend reading the whole series. Dark Hearts will be easier to follow and dive into if you are familiar with the ongoing plot and characters. Even though there are no cliff hangers in the previous books, the main part of the plot follows the series. It's one of those series that you just can't forget and I'd highly recommend not only Dark Hearts but the entire series to any romantic suspense reader.
Book Info:

Published: March 29th 2016 by Mira
Some lies never stay buried…
Betsy Jakes was having nightmares, nightmares that could solve a decades-old mystery. And for someone in her small town, that meant she had to die.
When Sam Jakes returns home to help his brother solve their mother's murder, two things shake him to the core. This crime is clearly the work of a serial killer who has struck twice before. And … Lainey Pickett is still in town. The woman he walked away from without an explanation years ago has just walked back into his life. She still holds a grudge – and his heart.
As Sam digs deeper into the murders and thirty-year-old secrets begin to emerge, he finds himself racing against time not only to catch a killer but to keep Lainey, the only woman he'll ever love, from falling victim, too.