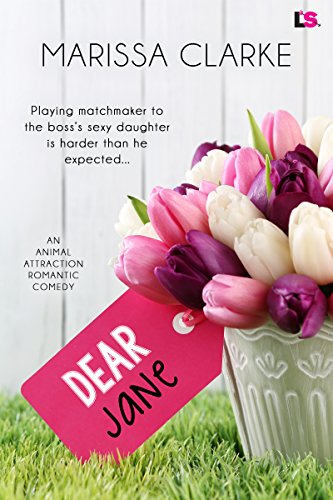 In Dear Jane (Animal Attraction #1) by Marissa Clarke, all Jane Dixon wants is to make it past the first date with a man. But with her being a dating disaster that tends to cause chaos on any date she goes on, Jane wonders if she'll ever go on a second date with the same guy. When Eric Blackwell, a fellow attorney at the firm where she works offers to find men for her to go out with, Jane accepts his help. Yet, the more time she spends with Eric, the more she finds he's the one man she can see herself spending all her time with. Will they give each other a chance, so they can achieve the happy ever after they both deserve?
"I think you're distracted."
She shook her head as she watched the bag go around in the microwave. "Yeah. Distracted twenty-four/seven. My brothers used to call me Spacy Janie when I was in high school. I shut that down though."
Her sly smile evoked a returned one. "How did you manage that? From my experience watching my female friends who have brothers, the teasing can be pretty relentless."
"Not when you get them where it hurts. In the Dixon family, academic success is a point of pride. So I crushed their pride."
What a wonderful start to a new series Ms. Clarke has penned in this story, which encompasses the forbidden romance trope, since they're colleagues that work together at a law firm with a no fraternization policy. That alone makes this story a worthwhile read, as they do their best to keep their relationship hidden due to Jane's connection to one of their bosses. The way this story began with the dilemma Eric is facing due to a client had me hooked. Would he sort things out for his client? Would his bosses be impressed so he'd earn the promotion he's after? However, the moment Jane and Eric come face-to-face for the first time had me smiling, as the heroine reveals how hard dating has been for her; and then Eric comes to her rescue, so she doesn't give up on men in hopes she'll give him a chance.
As for the dialogue, I loved every moment between Eric and Jane. The hero is a good friend in the way he tries to help the heroine by finding men for her to date. Yet, at the same time, I couldn't help but sympathize with him. It was hard for Eric to be happy for her when he wanted Jane for himself. Moreover, the moment when they talk about the non-fraternization policy of their law firm was amusing. Who knew lawyers could be so funny when discussing such a thing? Certainly, using terminology they articulate frequently in their career can prove useful for the greater good in making sure neither loses their job.
Jane was a really good heroine due to the fact she is a dating disaster and learning the things that go wrong during her dates had me shaking my head, wondering how everything could possibly go as wrong as they do. Do the men she's going on a date with make her so nervous that things go wrong? She's also hard-working, smart and I could sympathize with her reasons for being a lawyer. It's not a career she's all that enthused about, but being a successful lawyer is something that's expected of those in the Dixon family. Will she finally tell her family that she doesn't want to be a lawyer anymore? Will she finally follow the dream she had for her life? Discovering the answers to those questions took me by surprise, because I wasn't excepting what her boss did in partially helping her achieve everything she's wanted in her life.
The train slowed for another station. "So, have you put any thought into what you are going to do now?" he asked.
"Yes. Take you back to my apartment and ravish you."
"Ravish?"
She laughed. "Kind of goes with my dad's favorite word, affair. Too bad it doesn't pay as well as practicing law."
He nipped her neck. "It does have excellent benefits."
While Eric, he too, is hard-working, smart and I liked how determined he was to earn his promotion, despite the fact that being involved with Jane was counterproductive to his chances and could ruin everything. Just like Jane, he does his best for his clients and prove his worth to his bosses, yet he has something more. He has the heart and drive for being a lawyer where as it seems Jane only does her job for the wrong reasons including making certain her family is proud of her.
Overall, Ms. Clarke has penned a worthwhile read in this first book of her new Animal Attraction series where the strong romance between Eric and Jane had me cheering that the heroine will finally get a second date and her man. The way this story ended was delightful because of what Eric does for Jane to help her achieve her dream when it comes to the kind of career she hoped to have growing up. He really is a lifesaver in all ways. I would recommend Dear Jane, if you're looking for a quick, satisfying read or enjoy the friends to lovers or forbidden romance tropes.
Book Info:

January 9th, 2017 | Entangled Publishing | Animal Attraction #1
Jane Dixon is a dating disaster. Flammable tablecloths and broken arms are just a typical evening for her unlucky companions. No wonder Jane never gets past a first date. But luckily her co-worker and new bff says he's got loads of friends who'd date her more than once. If only she could stop thinking about how much fun he was to hang out with. And she'd never dropped a bucket of ice on his junk. Win.
All attorney Eric Blackwell has to do to make junior partner is not screw anything up for six weeks, which seems like a slam dunk until he finds himself matchmaker to the office "One Date Wonder" aka the boss's daughter. It's hard to stay focused when setting up the hottest girl he's ever met with everyone but himself. Maybe he could just set her up with all the wrong men, and keep his hands off his new friend… Yeah. His promotion is toast.