Dirty Secrets by Regina Kyle: When Connor agreed to let his best friends sister crash at this place he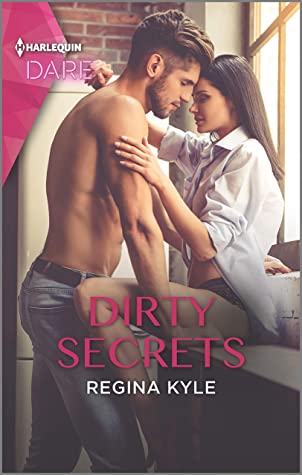 most definitely did not think that he would be opening the door to finding his own happily ever after. Brie has had a crush on Connor for as long as she can remember but to him all she has ever been was his best friends annoying little sister, but Brie is not about to let this opportunity go to waste. Now with sharing such close quarters Brie is finding it harder and harder to keep her crush on Connor under wraps, throwing caution to the wind Brie decides to see how far she can push Connors boundaries.
Soon their late night chats and cute home cooked dinner begin to give way to steamy nights together and Connor is forced to question is his relationship with Brie worth possibly losing his longest friendship as well as his business?
I can not say this enough this book was super perfect! Regina Kyle is fast working her way to my new favorite author list, I loved that she kept her story fresh and added a lot of current pop culture references into the read, this helped make this story that much more relatable. Now on to our two main characters, I loved that these two were so opposite from each other but still messed so perfectly together. Their conversation were snarky and amusing and their chemistry was undeniable. I have to say I love that Brie pushed to get the man she wanted and that she stood up for herself and was an all round strong woman. It is always nice to see an strong confident female character and this was Brie down to the tee. I really liked Connor and that we got to see his back story and the issues that he had with his father.
Overall Dirty Secret gets a big fat 5 stars from me the best friends sister trope is one of my favorites to read and Kyle has done a standout job with delivering this. This is one of those cute fast reads that I would definitely reread.
Book Info:

Publication: November 1st 2020 | Harlequin Dare |
Her brother's best friend is hotter than sin and she's about to show up at his luxury apartment. After a lifetime of good behavior, will Connor Dow be able to resist the ultimate temptation on his doorstep?
In New York, the city that never sleeps, Gabrielle "Brie" Lawson can't get any shut-eye. Not as a struggling actress and definitely not with her longtime crush, Connor, now so close to her bedroom. The devastating, gorgeous club owner has always been off-limits to her. But given that he's letting her stay with him, that means…well, he might be open to reworking certain sexual boundaries.
With a little private time, Brie is determined to seduce him, cooking him romantic meals and prancing around in lacy lingerie. He shouldn't expect a creative beauty to be hemmed in by virtue—or clothing. So it doesn't take long for Connor to trade some late hours at the office for sultry nights with Brie. He seems tailor-made for her in every way. From his well-ordered life to messing up the sheets, there's no one else. But would he risk losing his best friend—and his business—for a chance at true love?