In Disarm (The Dumonts, #2) by Karina Halle, The loss of her adoptive father throws Seraphine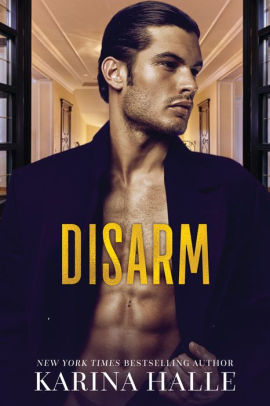 Dumont into a tailspin emotionally. Unsure whether she truly believes that he died of natural causes, she looks for an ally within her distrusting family, wanting someone else's eyes and thoughts on the possibility of foul play. But Seraphine never intended that person to be her cousin Blaise. Their history is all kinds of complicated, the tenuous friendship they once had that was severed years ago is nowhere to be seen these days. As Seraphine encounters some danger while looking into her father's death, Blaise comes to her rescue. It leaves her to wonder if what she hoped all along about her (adopted) cousin, that he really is a nice guy under the entitled Dumont exterior, is true. And that Blaise can be trusted with not only her investigation, but also her heart.
'I worked hard, and I did what I could to make sure I deserved the life I was given, but even so, I didn't know what I wanted…
It was this.
It was a future.
It was love.
And I found it with this man.'
It's a rather sad thing to admit–even if only to yourself–that your family has done horrible things in the name of money and power. But that is something Blaise has always had weighing on his mind. Years abroad, far away from his family's influence, showed him other ways to treat those around him. But the best example of a person who exemplifies all that's good in the world is his adopted cousin Seraphine. Blaise felt a connection to her the first time they met. She was an outsider, new to the family, something he felt like himself, always carrying different views than his backstabbing brother and parents. So when Seraphine needs help, even though it goes directly against his brother's wishes to make sure she doesn't find out family secrets, Blaise can't do anything but rush to her side. And hope that this is the chance he's been waiting for to show Seraphine how deep his feelings for her are.
'I feel a painful thrill run through me. The kind of thrill that's rife with taboo and flirts with danger. The kind of thrill that I have never felt around any other woman before.'
Disarm was a dramatic forbidden romance all about deceit, treachery, and a family that was basically at war against itself.
'I'm a traitor to my family in this moment.
And yet I don't see I have a choice.'
Leave it to Karina Halle to weave a tale filled with an almost soap opera level of family theatrics and make it work. I do want to mention that you can get away with reading Disarm as a standalone where enough of the events from book one (Discretion) were included. But I think it's worth reading that beginning to the series, just to get a better idea of each family member, their history, and the fascinating dynamics between them all.
I'm going to be completely honest here about our hero. I wasn't sure if Halle could make me like Blaise after seeing how dastardly his side of the family had been to Seraphine's. But we did learn what Blaise went through in his childhood via flashback passages so it became clear why he reacted/acted certain ways around Seraphine and her family. I won't say I was all googly-eyed for Blaise by the ending (lol!) but he did win me over. So kudos to Halle. Although I think her real work will be cut out for her in book three, which is Blaise's brother Pascal's story. *That* will be quite an undertaking to get readers to warm up to him…
Seraphine's background may be a little intense for some readers. She was born in India, then brought up in a London orphanage and several foster homes, treated poorly and viewed as an outcast before being adopted by the Dumonts. I did think Seraphine made a good heroine for the story although she made a couple of decisions that weren't quite thought through well–which ended up coming back to haunt her. Her complicated past with–and super complex feelings for–Blaise were well drawn out by Halle. Theirs was a simmering attraction that had always been there. And seeing how Seraphine and Blaise handled it when they gave in to their attraction while at the same time digging through family secrets was very interesting.
Karina Halle's storytelling ability was on full display in Disarm, with the exciting plot and the characters who were both fallible and relatable. If you enjoy intense taboo romances with intrigue and scintillating passion, this is the book for you.

Book Info:

Publication: Published November 19th 2019 | Montlake Romance | The Dumonts #2
Karina Halle, the New York Times bestselling author of Discretion, lifts the veil off a privileged family dynasty to reveal a wealth of secrets and dangerous obsessions.
Seraphine Dumont seems to have it all: she's gorgeous, brilliant, and part of one of France's most illustrious dynasties. But underneath the facade, Seraphine struggles to hold it all together. Besides grieving her adoptive father's suspicious and sudden death, she also shares a tenuous role in the family business with Blaise, her in-name-only cousin. As tumultuous as their history is, he may be the only member of the deceptive Dumont family she can trust.
Seraphine is a temptation Blaise can't resist. The torch he's carried for years still burns. It's his secret—a quiet obsession just out of reach. Until his brother demands that he spy on the increasingly cagey Seraphine, whom their father considers a dispensable Dumont outlier. But the more Blaise watches her and the closer he gets, the more he sees Seraphine may have every right to be suspicious. And she could be the next one in danger—from his own family.
As blood runs hot and hearts give in, Seraphine and Blaise have only each other. But can their love survive the secrets they're about to uncover?