In Down with Love (Love Wars #1) by Kate Meader, Max Henderson is cynical when it comes to love and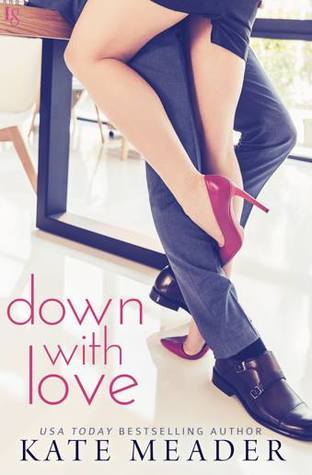 relationships since as a divorce attorney he's seen how devastating it can be when couples turn against each other. However, when his brother tells Max he's getting married, Max is determined to make sure he isn't taken advantage of. Yet, it seems he's met his match in wedding planner, Charlie Love, who is his complete opposite. She's all about love and happy ever after. Will spending time with Charlie make Max a believer in love and happiness or will the pair lose their shot at happy ever after because Max will always be cynical when it comes to love and marriage?
"Maybe he shouldn't have left you alone."
"Maybe this gal can handle herself."
"Maybe she should let herself be taken care of by someone who knows what he's doing."
She's having a hard time settling on amused or irked. "Does this work for you?"
"What?"
"The cocky player, shock-and-awe approach."
If you've never read a book by Ms. Meader before, you're missing out on some fantastic writing and this story launches an absolutely captivating start for this author's new Love Wars series. Really, everything about this book – the incredible main characters; the enthralling dialogue that had me hooked from the very beginning; and the fast-paced plot that had me reading quickly, determined to discover whether Charlie would win over Mr. Cynical — made this story a total page turner. However, it was from the moment the hero and heroine come face-to-face for the first time where this story really takes off, as sparks fly between Max and Charlie, and yet, Max is so cynical about love and marriage that there seems absolutely no hope for the pair. Will the heroine be able to convince Max that marriage isn't always doomed?
As for the dialogue, it was a wonderful combination of intense moments due to the main characters back stories and playful dialogue between the hero and heroine that ups the sexual tension between these two until their powerful chemistry explodes onto the pages in sizzling sex scenes that does their chemistry justice. Moreover, the heroine is sassy, resilient, courageous and I liked the challenge she provides the hero. Really, she's unlike any woman the hero has ever met before in that she doesn't instantly fall for his charm or his good looks. I also liked how hard-working she is and that she would do anything for her clients, even if it means having to spend time with Max and his cynical ways.
While the hero, he's confident, cocky and I liked how determined he was to win the heroine over, even though he doesn't believe in love and marriage. Will Max be able to convince Charlie to take a chance on him, although he can't give her what she wants most – happy ever after? I also liked how protective the hero is of his brother because he's witnessed the ugliness of divorce and doesn't want that for his sibling. Yet, what I liked most of all about the hero is that he's hard-working and honest when it comes to doing what's right for his clients, even if divorce seems like the only option.
"And what about me? How will I let off steam when you make me crazy?" His smile is classic Max. "In a way that's not immediately beneficial to your d*ck, Henderson?"
"Well, my lovely, foul-mouthed angel, there's this place called the Punch Palace, and it's the perfect spot for channeling all that Charlie Love aggression. If ever you feel a need to knee me in the balls, count to ten, lace up those gloves, and punch the hell out of the Mask of Max."
Overall, Ms. Meader has delivered a fun-loving battle of wills-esque type story where the heroine is team love and marriage while the hero isn't. Will the heroine be able to convince the hero that love and marriage are good things? Will the heroine see that the hero is right, especially when she hasn't been all that successful with her previous relationships? As for the way this story ended, I loved it because Max is determined to win the heroine back after their relationship goes awry. His words to her certainly express that he will endure anything to be with her, even when she's annoyed with him. However, it was the epilogue that wrapped this story up nicely, as Max does something so romantic that had me smiling long after I finished this book. I would recommend Down with Love by Kate Meader, if you enjoy the enemy to lovers trope, the opposites attract trope or books by authors Kimberly Kincaid, Melanie Shawn, Jennifer Bernard and Sawyer Bennett.
Book Info:

Publication: August 7th, 2018 | Loveswept | Love Wars #1
Sparks fly when the hot-shot divorce lawyer meets the high-powered wedding planner. The only question is, what kind?
If you ever get married, remember my name: Max Henderson. In my line of work, you acquire a certain perspective on supposedly everlasting unions. . . .
1. Pre-nups are your friend.
2. The person you married is not the person you're divorcing.
3. And I hope you didn't spend much on the wedding because that was one helluva waste of hard-earned cash, wasn't it?
But some guys are willing to take a chance. Like my brother, who thinks he's going to ride off into the sunset with the woman of his dreams in a haze of glitter on unicorns. And the wedding planner—the green-eyed beauty who makes a living convincing suckers to shell out thousands of dollars on centerpieces—is raking it in on this matrimonial monstrosity.
The thing is, Charlie Love is not unlike me. We're both cogs in the wedding-industrial complex. As the best man, I know her game—and I can play it better than her. But after one scorching, unexpected kiss, I'm thinking I might just want to get played.