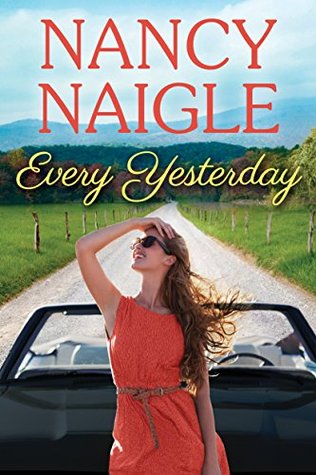 Every Yesterday (Boot Creek) by Nancy Naigle is an amazing small town book about HEA and finding that perfect person for you when you least expect it, when you are not looking for it, when you really don't think that you deserve it. This is the story of Noah and Megan.
Megan Howard makes beautiful candles, but at one time, she was a thriving painter who thought that she had the world at her finger tips. That was until she found out that her fiance was a drug addict, who stole her money, and the money from her paintings to support his habit, only to overdose and leave her with nothing. Struggling to recover and make a life for herself, when her father passes away, she is thrown down the rabbit hole again. It is only the 1958 DeSoto Adventurer that he leave her, and the memories that she shared with him that keep her afloat. When her best friend was promised that she could use the car as her drive away car at her wedding, Megan is looking of a way to convince her otherwise.
Noah Black has never seen a car he could not get. He restores cars for a living, running "California Dreaming Care Restoration", and he has been looking for years to get his hands on the 1958 DeSoto Adventurer that Megan now has in her possession. Making a bet with his buddies that before the bride and groom ride off into the sunset for their honeymoon, he will own that DeSoto, Noah has to come up with a plan.
But as Noah and Megan spend time together, working on projects, having dinner together and talking about their hopes and dreams, Noah realizes that it is more about the woman and less about the car. When Megan overhears a conversation about the bet, she wonders if her fractured heart only imagined the connection she and Noah shared. Noah will need to prove with grand gestures that he wants Megan, with or without the car.
I loved the connection that Megan and Noah had. Yes, it started with a bet, yes Noah at first only wanted the car, but the connection and the common ground, common interests that Megan and Noah shared were undeniable. I love that Noah knew how hard it was for Megan to let go of the past, to push herself outside of her little bubble of safety and live. But he was there for her every pain filled moment, from showing her paintings, to allowing her best friend to drive her daddy's car in the wedding.
Amazing summertime read that will leave you cheering and giddy with happiness.
Book Info:

Expected publication: August 30th 2016 | Montlake Romance | Boot Creek
Megan Howard used to be a successful painter—but that was a long time ago. These days she's struggling to move forward, convinced her heart is permanently broken after her last relationship and grief stricken over the loss of her father. Clinging to memories of happier times, she holds tight to her father's most cherished possession: a 1958 DeSoto Adventurer. Though she needs the money, she'll never sell it—even loaning the prized automobile to her best friend on the day of her wedding stirs up painful memories.
Avowed bachelor and car collector Noah Black has never seen a car he can live without…or a woman he can live with. Reluctant to see his best friend condemned to matrimony, he flies to Boot Creek from California to be the best man in the wedding. But after discovering that the gorgeous maid of honor owns the car of his dreams, Noah makes a pricey bet that he'll add the DeSoto to his collection, no matter what it takes.
Despite their determination to stay single, Noah and Megan soon find they can't resist each other. His attention turns from getting the car to getting the girl, and thanks to Noah, Megan can imagine a life in the present. But when the truth about Noah's wager comes to light, will it threaten to throw Megan's new perspective into reverse?