In Famous in a Small Town by Kristina Knight, Savannah Walters has always felt like an outsider. Abandoned outside of a police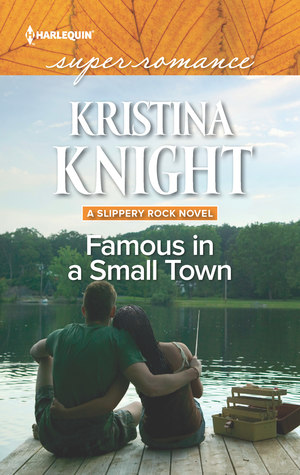 station at seven years old with only her name, age, and birth month pinned to her shirt, she always waited for the other shoe to drop. She expected the Walters family to get rid of her, too, so she always kept herself on the outskirts of her family. After getting caught up in a scandal, she returns to Slippery Rock and the family she held at arm's length. During this time she also reconnects with her brother's best friend, Collin Tyler.
Collin has his hands full running the family orchard and dealing with his sister, who's always getting in trouble. His parents took off, leaving him responsible for her but he has no idea how to connect with her. The last thing he wants to do is get involved with Savannah, especially since he believes she's just going to leave town again.
Overall I enjoyed the story, but I was left feeling annoyed at times. Sometimes my annoyance was at Savannah; her family made it clear time and time again they would be there for her, yet she continually refused to tell them the real reason she returned home. She didn't even want to tell them that she no longer wanted to be a singer. I would have liked to have seen her have a little more faith and trust in them, especially since it was mentioned that they all went to family therapy multiple times when she was younger. One would think that would have helped her deal with some of her issues, but it didn't seem to have helped her.
Collin bothered me at times as well. He kept saying he didn't know how to help his sister, but he didn't seem to even try. He didn't sit her down and take the time to understand why she was doing the things she was. Instead he lets her sulk while he wonders what he's doing wrong. Also, at one point he doesn't give Savannah a chance to explain something; he just gets mad and storms off. He could have handled both situations better than he did.
I loved the Walters family and how much they loved and supported Savannah, even when she couldn't see it herself. All they wanted was for her to be happy. I also thought Collin and Savannah worked really well together for the most part.
Famous in a Small Town is about returning home to rediscover oneself and finding a place to belong. If you enjoy small town romances or the brother's best friend trope, you might want to give this one a try.

Book Info:

Publication: May 1, 2017 | Harlequin Superromance | Slippery Rock #1
Forced to leave Nashville after a scandal, Savannah Walters has come home to Slippery Rock, Missouri, with a bruised ego and her singing career in jeopardy. As if that isn't humiliating enough, on her way into town she's rescued by her swoon-worthy childhood crush, Collin Tyler.
His hands are full running the family orchard and dealing with his delinquent teen sister, so Collin doesn't need to get involved with someone as fiery and unpredictable as Savannah. But the intense attraction between them can't be denied. And when disaster strikes, they'll both be surprised by who's still standing when the dust settles.