Forking Around by Erin Nicholas  is the second book in her Hot Cakes series. I can honestly say Erin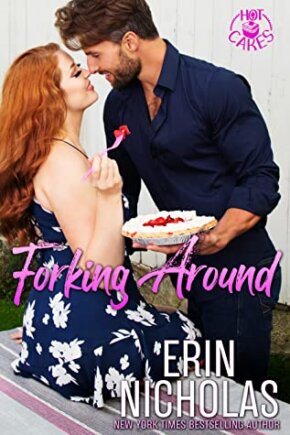 Nicholas has never written a book that I didn't love.
He loves to make people feel good and be happy. She needs to feel good and be happy. Made for each other.
Things are far from hunky-dory for Jane Kemper. Her father's body has deteriorated so much from his disease that he is now living in a nursing home because he needs professional assistance. Jane doesn't care much for her stepmother, Cassie who seems determined to make her life miserable. She doesn't care all that much for her stepsister, Aspen either since she is making her little sister, Kelsey's life miserable. She has to deal with this so as to not stress her father out and do as much as she can to make Kelsey's life with Cassie and Aspen bearable.
Cassie makes Kelsey do all the housework and insists she tutor Aspen. Yeah her, Aspen. Aspen treats Kelsey like she is her personal servant. So, yes, her job at Hot Cakes is a decent paycheck and the work takes her mind off her troubles. Then Dax Marshall and his partners purchase Hot Cakes. What a change. Better benefits. Better working conditions. A coffee bar, ping pong table and big screen TV in the break room. Definitely an improvement.
Then there's Dax, funny, full-of-life, unpredictable, hot Dax. I did say hot, right? So very hot! So very much attracted to him and thank goodness he is attracted to her too. Making good on that attraction too! You know it's right when you're willing to give up strawberry pie for the guy.
Dax Marshall is a good times, make 'em happy kind of guy. He feels good when he can make others happy, feel good. It helps that he is a millionaire thanks to the video game that made him and his four friends and partners in their game company, Fluke, Inc. rich. Now that they have purchased Hot Cakes in small town Appleby, Iowa, which, by the way, is a world away from what he is used to in Chicago where Fluke, Inc. headquarters is. But Hot Cakes is what has led him to gorgeous, redhead Jane Kemper. There's something different about her from all the other women he has been attracted to. She has many issues in her life and Dax wants to make her life better, make her happy. Oh! And get her in bed with some strawberry pie. That would be dirty dreams wonderful!
This one is the creme de la creme of my 2020 book reads! I love Jane and Dax. They are three-dimensional, very likable characters. They just fit so well together. What a treat to get to read the story of their trip to Happily Ever After. Loved getting to see so much of Jane's friends and Dax's friends. I am really looking forward to the next book in the series, Making Whoopie, Josie and Grant's story.
Book Info:

Publication: May 12th 2020 | EN Fiction, Inc. | Hot Cakes #2
A Cinderella story with a hot boss so charming even a fairy godmother couldn't do better.
Everyone thinks Dax Marshall is a prince of a guy. And he's definitely charming.
But Jane has enough going on without adding a torrid fling with the boss to her life. Between her father's illness, her wicked-ish stepmother, her little sister's teenage drama, and the co-workers who depend on her—she can't handle another mess.
No matter how tempting and gorgeous the mess may be. Or how messy he wants to get with her.
Dax has spent his life being very serious about only one thing: proving you can be successful while still having a helluva good time. But he's just met the one woman who might break his I-can-charm-anyone streak. She's actually taking him seriously…and she seriously thinks they have nothing in common and can't be together.
Maybe he's the one who needs a new view of happily ever after. It's time to stop forking around.