In Frost and Flame (Gods of War #2) by Gena Showalter, Centuries ago when Bane of Adwaeweth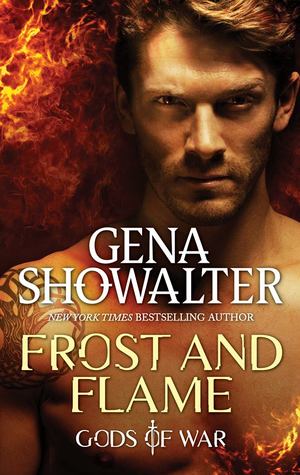 set out to win the All War on Terra, he was still shaken to his core by the depths of evil his queen, Aveline, would stoop to force him into battle. But when he and the other combatants were encased in ice, Bane had to rely on his wits to stay sane. God knows the beast who inhabits his body did his best to drive him mad. It is a tiny woman, the most beautiful female he has ever seen, who sets him free. And who will one day soon become queen of Adwaeweth, if he has any say in it. Only Nola Lee has no idea of the power she will wield. It is up to Bane to protect her so he can put his plan for vengeance against Aveline into motion. Losing his heart, piece by piece to bewitching Nola, however, wasn't part of the deal.
"I'm strong enough to slay an entire army, but too weak to resist the urge to hold you."
Nola and her sister Vale have scrimped, saved, and planned for their awesome vacation abroad for years. Through Nola's battles against illnesses, addiction to the subsequent pain medicine that somewhat helps her condition, and years of feeling weak and inadequate, she's determined to prove herself strong enough to travel with Vale. But strange snippets from her past are pushing her toward Russia and the icy caves there. Nola is shocked to find what appears to be warriors encased in ice–and that she has a strong connection to one hunky beast in particular. As events are set into motion, freeing the men and causing a fighting frenzy, Nola's journey hits a huge bump by the name of Bane. And with combatant Zion also bargaining for her help, she'll have a huge learning curve to overcome. All without losing her heart and soul to Bane.
"Sorry to be the one to hit you with truth, Nola, but all royals change. You will, too. You won't be able to help yourself."
Tired of being called weak, she lifted her chin. "Challenge accepted."
Gena Showalter's Gods of War series has quickly become some of my favorite of her work to date. Brutal, comical, sweet and poignant, Frost and Flame took the battle for Terra/Earth to a whole new exciting level.
"Love? Never again. My heart is made of vengeance and hate."–Bane of Adwaeweth
"I've warred with fibromyalgia and lupus for years. Tame some big, bad beasty-boy? Watch me." –Nola Lee
I will mention first that readers who get squeamish reading gory fight scenes will probably not dig this series. At all. Because–whew!–Showalter doesn't skimp on the intricate details of the many fights between the combatants. But then again, if you've read any of her Lords of the Underworld series then you've already seen the lengths she will go to for her readers to have an immersive experience. That is doubly true with both books so far in the Gods of War saga.
This story actually runs along the same timeline as book one, Shadow and Ice, so it can be read independently–but I would highly suggest reading them both because they are just that wonderful. Although we got to see many of the warriors at battle on Terra (Earth) here, the primary focus was on Nola and Bane…with Zion, another combatant, a big part of the couple's story as well. I really ended up loving our hero *and* heroine. (And Zion!) Nola was a hoot and I adored that she might have had numerous health issues that made her life hell, but she didn't give up. Her spirit was evident in everything she did. And she was exactly the kick in the pants that Bane needed to get his head out of his tortured past and into the present. They made a fierce combination with their quick thinking and both of them knowing how to draw on their own skills.
The All War continued to wage on in this installment and, if you have read book one, you get to see things from a different perspective, with Nola, Bane and Zion's part of the battles this time around. Just like in the Lords of the Underworld, I thought Showalter did a fantastic job with her world-building and with the overall complexity of the story arc so far. There were so many different pieces she pulled in to make this a huge universe for the characters. I can't wait to see who she focuses on next.
Epic, fierce, and complicated, but still with a tangible human element, Frost and Flame is a paranormal romance fan's dream come true. Highly recommended.
Book Info:

Publication: September 17th 2019 | HQN Books | Gods of War #2
From Gena Showalter, the New York Times bestselling author of the Lords of the Underworld saga, comes Frost and Flame , the second book in the scorching paranormal romance series Gods of War.
Bane of Adwaeweth is the most feared immortal warrior in All War history. Possessed by a bloodthirsty beast, he will stop at nothing to win. Then he meets irresistible Nola Lee. He hates the power she wields over him, but she alone can rain vengeance upon his wife's killer.
Unaware of her destiny to rule as queen of beasts, Nola battles illness, addiction and vulnerability. With Bane, however, she experiences pleasure for the first time, and only wants more. But being with him comes with a terrible price.
With enemies lurking around every corner, Bane and Nola must fight to survive. But time is running out, and neither can resist the sizzling attraction blazing between them. Will their romance save the beast and his beauty, or destroy everything they've come to love?