In Getting Lucky (Nugget #5) by Stacy Finz, Tawny Wade will do anything to save her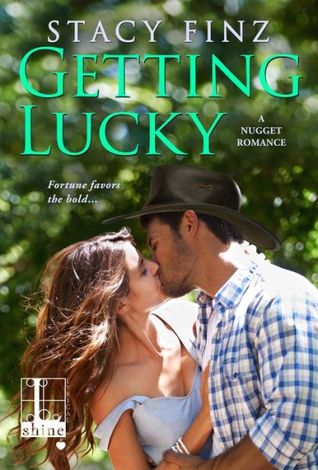 only child – a beautiful little girl in desperate need, of a transplant otherwise she will die. Unfortunately, time is running out and her only option is to ask the child's biological father for help. The question is – will he be the answer to her prayers by being the perfect donor match, or is all hope lost?
"What's your business – shaking down wealthy bull riders?"
"I don't want your money. I want your stem cells."
"Fine, give me proof that the girl is mine and we'll work something out," Lucky said, but clearly thought she was either mentally ill or a con artist.
Lucky Rodriguez has a past in his hometown he'd rather forget. But now that he's home and together with the woman he's loved for years, he couldn't be happier until Tawny – now all grown up and more beautiful than ever – re-enters his life. Claiming that their one-night stand resulted in her having his baby, and now their daughter needs his help.
What an interesting read Ms. Finz has delivered with most of this tale focusing on Lucky and Tawny. However, it did include a side story involving Lucky's mother and the man in her life, which I wasn't particularly fussed on. But despite that, I loved the rest of the story a lot. It was captivating, fast-paced and the way Ms. Finz brought Tawny back into Lucky's life was touching as the heroine would do anything to save her daughter. Even confront the one man that has the capability to break her heart.
"Why didn't you try to get ahold of me when she was diagnosed?" Lucky asked.
"I figured you weren't interested in returning my phone calls when I was pregnant; why would you suddenly call me back five years later?"
"Tawny, I never got your messages. If I'd known I got you in trouble, I would've done the right thing."
"You didn't get me in trouble. You got me pregnant. And until now, I didn't need you."
I really liked both characters, and the dialogue is quite an emotional rollercoaster from both main characters points-of-view. Lucky's back story certainly influenced Tawny's decision whether to face the hero with the truth about their daughter, since she didn't want to make more trouble for him than he already had back when they had their one-night stand.
Tawny is a wonderful mother, and the relationship she has with her daughter is quite a special one. I liked the fact that the heroine was so independent, but wasn't afraid to ask for help when she desperately needed it. As proven by going to Lucky to save their daughter, even though getting close to him could be detrimental to her heart, if things don't go the way she hopes. Yet, what I liked most of all was the fervor she had for her career, of making custom boots that take her ages to craft. It's a lucrative business that she's had a lot of success with.
While Lucky, he annoyed me at various times throughout the story. He had a wonderful woman in Tawny, and yet he kept claiming how much in love he was with the other woman in his life, even though she was the cause of all his problems – in both the past and present. However, in saying that, I did like him. He's very benevolent in the way he helps Tawny, even though she's not comfortable accepting his generosity. He's also very assertive, pushing Tawny into decisions by manipulating her with the fact that she's kept his daughter from him for years. But what I liked most about Lucky was how reliable he was, and the way he supports Tawny, so she no longer has to go at things alone.
As for the secondary characters, there were some I liked and others I didn't. I liked Lucky's mom, and her subtle meddling in trying to get Tawny and her son together. Then there are Tawny's friends who are all too happy to find her a man, even though she doesn't have the time to date with her daughter being sick. Yet, this moment where Lucky and Tawny are conversing about Brady — one of the secondary characters and if she's interested in him — really progresses their growing relationship, and eventually their intense chemistry spills over onto the pages in some hot sex scenes. Scenes that prove Lucky was chasing after the wrong woman for too many years, and the right one was the one that helped him through one of the toughest times in his life.
"I'm not a liar. That's what they told me. Why? You interested?"
"Of course not," She said.
"Damn straight. You're only interested in me."=
Lucky tightened his grip because he didn't want Tawny to squirm away. "Raylene and I are over. That's all you need to know."
Overall, Ms Finz has penned a good story in this fifth book of her Nugget series, where the main characters have some tough obstacles to overcome such as a manipulative ex-girlfriend and the trouble on Lucky's ranch. But, as long as they have each other, they can face anything thrown their way. I really enjoyed the end with Tawny surprising Lucky with her gift, and Lucky finishing his career on a high. I would recommend Getting Lucky by Stacy Finz, if you enjoy second chance romances.
Book Info:

Publication: November 10th, 2015 | Lyrical Shine | Nugget #5
In Nugget, California, a tiny town tucked into the Sierra Nevada mountains, luck is what you make it, and love is never far behind…
From his humble beginnings in Nugget, Lucky Rodriguez has become a champion on the rodeo circuit, truly living up to his name in every regard. But when he returns home, he gets something success can't buy: a daughter he never knew he had. And the girl's mother, an old friend he has hasn't thought about since, now touches his heart like no buckle bunny ever could.
Tawny Wade hasn't always had luck on her side. She fell for a boy she couldn't have, lost her parents too young, and now her daughter needs a transplant she can't provide. But if Lucky is a stem cell match, all that could change. The trouble is, Lucky's got a past in Nugget that makes him off-limits as anything more than a donor for her daughter. And yet, Tawny's never stopped loving the man who now holds her family's fate in his cowboy-callused hands…