Getting Played (Heart of Fame #7) by Lexxie Couper: This is a super fun book with lots and lots of hot sex. The plot is good as well, however I found it to be slightly repetitive and one-dimensional. This is the story about two adults in their very early forties, and how they get a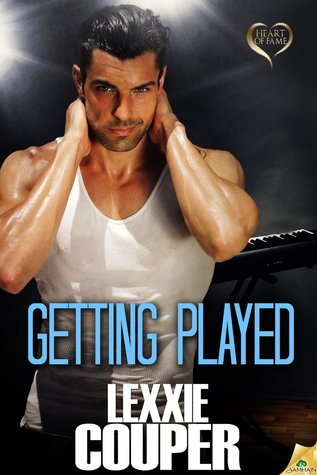 second chance at love, twenty years after they first meet in college.
Natalie Thorton is the Dean of the Sydney Conservatorium of Music. Her job is extremely prestigious and she has worked very hard to get where she is today. She knows almost everyone who is anyone in Australian music and her musical expertise is very highly regarded. Yet with all her educational degrees and contacts, Nat is amazingly down to earth and wants what every woman wants, a true love.
Hot and promiscuous Jaxon Campbell is the keyboard player for one of the hottest rock groups around. Since the lead singer of his band recently retired, Jax is on the prowl for a new front man, and who better to help him with this important task than Ms. Thorton, or Boxhead, the one that got away so many years ago.
Nat and Jaxon have huge sexual appetites, which cannot be ignored in any way. While in college, they screwed each other like rabbits and even lived together for a very short period of time. Before Jaxon realized that he and Nat were serious, and prior to them living together, Jaxon was not monogamous. He was popular and the band was taking off. A month after they started living together, Jaxon's sexual antics were exploited on the internet and as a result, Nat broke up with him. Jax took her autographed AC/DC album in retaliation.
What a wild book. Nat agrees to find Jaxon some lead singer candidates in exchange for him providing her with many multiple orgasms and the return of her coveted AC/DC album. Since their chemistry is off the charts and they truly still care for each other, Jaxon's task is extremely easy. Each sexual escapade results in deeper feelings for one another. Ms. Couper can certainly craft some of the hottest sex scenes I have ever read.
Since I have been to Sydney, I immediately formed a familiar and warm connection to the book's setting. Revisiting the Taronga Zoo and Sydney Opera House through Ms. Couper's eyes was fun. I liked how the author evolved lust into love, and I found Nat to be the most interesting and enjoyable character to learn about. Although the plot is slightly predictable, it is entertaining as well. This book is part of a series, but it can be read as a standalone. Overall, a hot read with explicit sex scenes that will leave you panting.
Book Info:

Published July 22nd 2014 by Samhain Publishing |  (Heart of Fame #7)
After yet another month without a lead singer, the band Synergy is on the verge of calling it quits. Which drives Jaxon Campbell, keyboardist and perpetual player, to do something dangerous—hit up a woman with contacts—and curves—in all the right places. Trouble is, the last time he saw her, he kind of broke her heart. And stole her cherished, autographed AC/DC album.
Natalie Thorton, Dean of the Sydney Conservatorium of Music, knows everyone who's anyone in Australia's music industry. She's driven and utterly professional and doesn't have room in her schedule for relationships.
When Jaxon strides into her office, all of Natalie's suppressed sexual urges—the ones born in Jax's arms—surge to the surface. He wants something from her? Well, she wants something from him. Orgasms. Lots of them.
How can Jax say no? He's never forgotten her, and it's not like they're going to fall in love. But just who's playing who? And whose heart is going to fall first?