Grand Slam by Heidi McLaughlin: One night two years ago, MLB player Travis had a night with Saylor, one of his PR reps, and since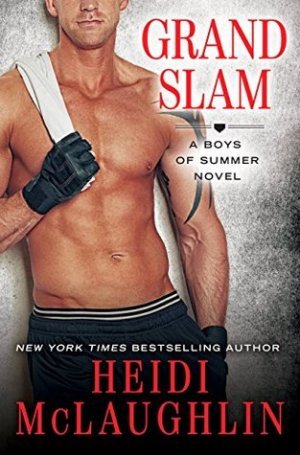 then he's known she's the one for him. He wants to be the family man for her and her young daughter, only she won't let him anywhere close.
But when Travis is accused of rape and Saylor is the only witness that can help, they're forced into one another's lives. Saylor can't come out with what she saw, not when it means she could lose her daughter thanks to her ex-boyfriend and his newfound desire for custody.
But as Travis' case worsens, the guiltier and guiltier she feels even as she falls for him.
I was honestly a bit speechless reading this story. I can't say I liked any part of it. First off, it's about rape. Whether Travis is cleared or not, he will always be associated with a rape case, and that just isn't a happy ending. And the fact that the case truly takes up the entire story, it was not a pleasant world to be in.
The worst part was Saylor. I could not root for her or like her at all. She could have helped him, and in the beginning, before her ex came into the picture, she had no reason not to. Even when her ex threatened her custody, it's not as though he had much to stand on to gain custody. But even so, she stood by for the majority of the story and allowed Travis to be horribly defamed. I can't say I cared much for Travis, but no man deserves such a woman. Especially when she was barely even nice or pleasant to him. He wanted her because of reasons I don't understand or see.
This story just did not work for me. I was not in a world or romance I liked, and I left it feeling dejected and sad for Travis. The one thing I can say is it was an emotional story just because of the absolute unfairness and wrongdoings that occurred against Travis. Honestly, I nearly DNF's this story, but I stuck around because I wanted to see when she would finally stand up for him — and it took much too long for that to happen.
Book Info:

Publication: May 23, 2017 | Forever | The Boys of Summer #3
Win the game. Lose your heart.
Everyone knows who I am and that I could have any female fan I want. That's supposed to be the "perk" of playing left field for the Boston Renegades. But I don't want just any woman; I want her.
She should be just another face in the crowd, but I can't stop thinking about the one night we spent together-and her look of regret the morning after.
Because Saylor Blackwell is the kind of woman who haunts a man. Smart, sexy as hell, and one of the best managers in the business. She's every ballplayer's dream woman. And I'd do anything to make things right with her.
I'm done sitting on the bench when it comes to Saylor Blackwell. Time to swing for the fences.