In Half a Heart by Karen McQuestion, Since his beloved mother died three years ago,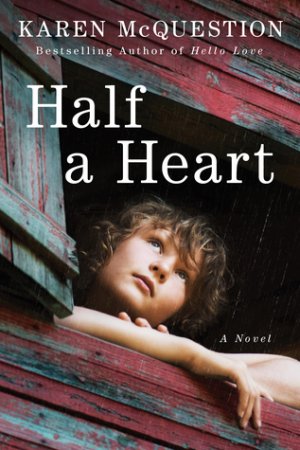 Logan Weber's life has deteriorated at an alarming rate. Moving from city to city and from one beaten up apartment to the next, he's learned that the key to avoiding most of his abusive father's outbursts is to stay silent and as invisible as possible. But unfortunately that's not always easy to do and Logan bears the scars to prove it. When he involuntarily does something his father sees as an act of defiance, he does the only thing he has left to do: he runs out of the apartment, heading for somewhere–anywhere–to free himself from his daily life of terror and punishment.
'His father had attacked…a complete stranger. And Logan had done something unforgivable. He'd openly defied his father.
No, there was no turning back.'
Nancy Shaw has done everything she can think of to locate her grandson and his good-for-nothing alcoholic father. She's even gone so far as to hire a private investigator. When she starts to put clues together, figuring out the last place Logan and his dad were known to live, she makes the trip there to ensure her grandson is safe. But something has gone very wrong and now Logan, a nine-year-old boy who can't talk, is alone out in the world, on the run and with no money or food. With the help of some of the locals who have also been worried about little Logan, Nan finally catches a few breaks and hopes she's on his trail. And that she can get to him before his father does.
'He was the other half of her heart, and now he was gone.'
A powerful story which compares and contrasts the best and worst in people, Half a Heart was filled to the brim with intense emotions and had a brave young protagonist who will undoubtedly win over readers' hearts right from the start.
'He'd been so afraid for so long, waiting for someone to help him, but no one ever did. No one had come to save him… But wishing for it to stop never stopped it. Nothing was ever going to change until he changed it.'
Possible trigger warning: Child abuse, domestic abuse, alcoholism.
This is actually the first book I've read by Karen McQuestion, although her work has been on my radar for a while now. I can't even begin to describe how expertly she pulled at my heartstrings with Logan's plight. This was certainly not an easy book to read, but to me it was a very important story, one that unfortunately is a reality for some children day after day. I'm not kidding when I say that I had tears streaming down my face for Logan numerous times. The way McQuestion was able to convey his feelings about each situation and his thought process as he bravely journeyed on his own in an unfamiliar area was so convincing, so real, that it absolutely wowed me.
Told from multiple POVs, the majority of the story of course is nine-year-old Logan running away from his abusive alcoholic father. But I really liked having the other characters' viewpoints as well, getting to see him through their adult eyes–and watching how they showed him some well-needed care and tenderness. The disparity between Logan's father and his grandmother, as well as the locals he met along the way, was staggering. It made it so clear how even the little things we normally take for granted: a hot meal, a hug or a kind word, warm clothes, can make an impact on a person's life. So even though there will be several difficult passages to get through in this story, the heartwarming, absolutely moving ending will be worth it all.
Copious amounts of Kleenex were used while reading Half a Heart. The kind of book that will stick with you long after you finish reading, I honestly can't recommend this touching tale highly enough.
Book Info:

Publication: Published March 13th 2018 | Lake Union Publishing |
From bestselling author Karen McQuestion comes a moving novel about broken hearts…and what it takes to put them back together again.
At nine years of age, Logan Weber knows the routine. Keep quiet, make the food last, and don't ever cause trouble. He'll do what it takes to evade the rages of his troubled, violent father. Even though he's only a child, Logan already knows too much—has seen too much.
So when the opportunity presents itself, Logan runs. He has no idea where his journey will lead, or that the grandmother he's been told is dead is desperately searching for him.
Alone with no home of his own, Logan looks for a safe place to hide. Relying on his instincts and the kindness of strangers, the boy manages to touch the lives of everyone he meets. But his innocent heart cannot survive in the adult world without the most basic human need of all: love.