Heir to a Desert Legacy by Maisey Yates: Chloe had no idea how much her life would change when she agree to be a surrogate mother for her half sister Tamara and Tamara's husbands…who also happened to be the ruler of Attar. When Tamara and her husband are killed in a car accident en route to Chloe's side for the baby's arrival, Chloe does the only thing she can. She takes baby Aden home to her small one bedroom apartment and takes care of him, unsure of what else she should do. No one knew of Chloe's existance, no one knew the truth about the baby's birth, the surrogacy is top secret.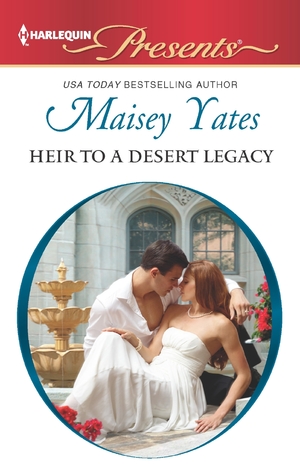 Sayid is shocked when he finds papers in his brother's private safe detailing an agreement with Chloe to surrogate their baby and the heir to the throne in Attar. Sayid does what he knows needs to be done. He finds Chloe and Aden, intent on bringing Aden back to Attar where he will be raised to rule Attar when he turns 16. Sayid has been doing it since his brother's death, but it is not a role he is meant for. As second born son, it has been drilled into Sayid that his role is of protector.
Although Chloe is still nervous mothering Aden, she is not ready to just send him away with Sayid to be raised by strangers, not even by Sayid. Chloe wants at least 6 more months with Aden to mother him. The only way Sayid will agree to this is if Chloe comes to Attar with them – so Chloe leaves life as she knows it behind and returns to Attar with Sayid. In the palace in Attar she continues on with life as she can, taking care of Aden and continuing with her studies. She soon realizes that she can't leave in 6 months and abandon Aden. Chloe wants to be a permanent part of Aden's life, after all he only as her and Sayid. Chloe has been hailed as a heroine in Attar who saved Aden, took him in and kept him safe until he could return to Attar. The truth of the surrogacy can never be known. Sayid is seen by the people as a cold, unfeeling man. Even so, when Sayid proposes a solution that will allow Chloe to remain in Attar, she jumps at the chance…to become Sayid's wife, even if only in name.
But Chloe has begun to learn more about Sayid, caring more and more for him. She sees that hidden in Sayid is the man he should be and the feelings he so desperately tries to pretend aren't there. He has been raised as a soldier for his people, to protect them at all costs. Any emotions or feelings he might have can be perceived as a weakness and used against him, so he must have none. Despite this, Chloe and Sayid both are drawn more and more to each other. With Chloe, Sayid feels a freedom and happiness he thought he'd never feel again. Chloe finds out what it feels like to be with a man who does not abuse women the way her father did. Both Chloe and Sayid must resolve their issues with their pasts in order to move forward. Sayid feels like he is risking everything if he lets himself care for Chloe and Aden…Chloe just wants a chance. Will she get it?
My favorite character in Desert Legacy was for sure Sayid! He is so tortured on the inside and cold on the outside. I felt so sad for the boy he was and the man he was forced to become. Chloe and Aden can be bright spots in his life if he'll let himself take the chance. As I read more into Heir to a Desert Legacy I found myself really hoping that Sayid would allow himself to be the man he really is.
Heir to a Desert Legacy was really only about Chloe and Sayid, Aden made brief appearances, but for the most part there were no real secondary characters or story lines. This worked out well for the romance part of the story, but I was left with so many unanswered questions! Chloe was able to just drop everything on the spot to go to Attar with Sayid and Aden. Once she got there she seemed to just fit right in and nothing really changed, but she also didn't seem to leave the palace. Her only challenge seemed to be finding a way to stay with Aden…I would have really liked it if Heir to a Desert Legacy went a bit deeper and talked about the cultural and religious challenges Chloe must have faced, because in my head surely a move like that would present many, many challenges. I would have liked to have known a bit more about Attar, so I could picture it in my head. I wondered a lot about these and how she would make it all work. I also wondered a lot about Sayid's family…his brother has died, does he have no other family, and what happened to the uncle who 'raised' him? Who exactly did he think would raise Aden since he wanted no part of that?
Heir to a Desert Legacy was a unique romance given the happenings and the setting. Maisy gives us a quick read and a glimpse of another part of the world.
Book Info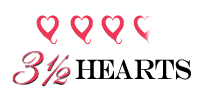 Publication Date: March 19, 2013 | Series: Harlequin Presents (Book 3133)
Sayid al Kadar was trained from childhood to be a warrior. He's fought, he's conquered—but was never meant to rule…Thrust reluctantly to the throne, Sheikh Sayid is shocked to discover a child who is his country's true heir, and he'll do anything to protect him, even if it means taking on the child's aunt!
Chloe James might behave like a tigress protecting her cub, but this trained soldier can see her weak spot. Taking Chloe as his bride would appease the people of his kingdom, and provide the perfect outlet for the blistering chemistry between them….