In Her Forever Cowboy by Marie Ferrarella, doctor Alisha Cordell needs to get out of the city and of the hospital she works in. Not only is it bad enough that she has caught her fiancé cheating on her there, but he was not even repentant. She knew he had cheated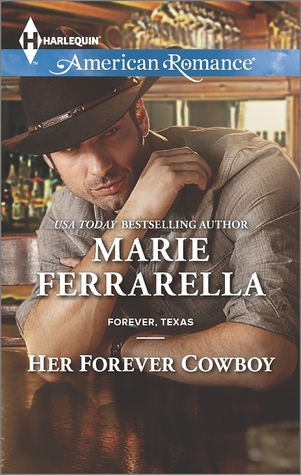 before, but seeing it first hand sure puts things into perspective.
She can no longer work with him and know that everybody is talking behind her back about what happened. So when she sees an ad on the board requesting any doctor who might be willing to help the lone doctor in a small town, she is willing to take it, even if it is only temporary and she will be counting down the days until she can leave.
Brett Murphy is part owner of the only bar in town. He has been responsible for his brothers since the death of his parents. He knows that Alisha will be trouble the minute he lays eyes on her. She is one hot lady, but he can tell that she is a city girl and she most likely will not want to stay in Forever for long. But that doesn't mean that he will not want to see if he can change her mind.
When Alisha first arrives in town she only sees the small town and lack of city to it, but little by little she starts getting charmed by the town and the residents, especially one sexy bar owner. So when she is told that she may be able to rent a room from Brett she is a little hesitant to ask. So much so, that the way she asks Brett about it make things quite interesting.
Brett has been hurt by love once before, by another woman that could not wait to leave Forever as soon as possible. He knows that he is risking a lot by setting his sight on the new doctor, but there is something about her that he just wants to get to know her better and maybe convince her to give Forever and him a chance.
The romance between Brett and Alisha is quite entertaining, especially since they have so little in common. Then there are Alisha's plans, she lives by them and really doesn't like to veer off them, but when she broke off her engagement her first plan got off track and from then on things get quite interesting for her. For no matter for how she wants to keep things formal and businesslike, the people of Forever don't stick to that and will soon have her changing more than she thought possible. But the real test for her will be when her past makes his presence known in her present and she has to choose what she really wants from her life.
If you want a sweet and fun read, don't miss Her Forever Cowboy by Marie Ferrarella.
Book Info:

Published September 2nd 2014 by Harlequin American Romance Series #1513
You Can't Hide In Forever
The minute he lays eyes on Forever's new doctor, Brett Murphy knows the town—and he—won't be the same. Alisha Cordell is raising the temperature of every male within miles. But the big-city blonde isn't looking to put down roots. The saloon owner and rancher will just have to change the reticent lady doc's mind.
A week after she caught her fiancé cheating, Alisha was on a train headed for a Texas town that was barely a blip on the map. So she's stunned at how fast the place is growing on her. That includes the sexy cowboy with the sassy smile and easy-going charm. Brett's also been burned by love, but he's eager for a second chance…with Alisha. Is she ready to make Brett—and Forever—part of her long-term plans?
Forever, Texas. Where romance lasts a lifetime.