His Best Friend's Sister by Sarah M. Anderson: How is it possible to be so completely in the dark about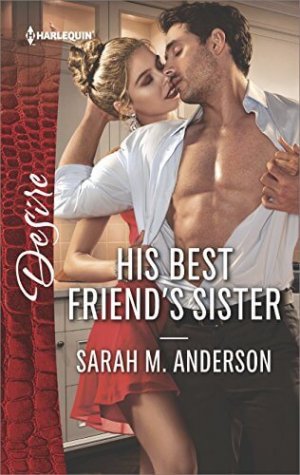 your own life, your own family for your entire existence?
Renee Preston wasn't sure how it was possible, but it was true. She hadn't a clue as to how she hadn't known, but her entire family was a sham. From the money they had to the image that they projected. Nothing was real, now a widow, her family in jail and oh wait pregnant she really didn't know what to do next.
Oliver Lawrence was the responsible one, the serious one, the one who cleaned up after his wonderfully irritating, but loving family. He didn't have time to clean up one more mess, especially when this one wasn't his and wasn't even family. Which was good, because the feelings he was having were not brotherly at all. The problem was this was his little sister's best friend and she really had grown up with them.
Now with so many things between them including an attraction that neither one can fight only time will tell if Renee will just be another problem to fix or if she will end up fixing Oliver's heart.
Wow, what a way to start a series. Ms. Anderson surely knows what she is doing and how to draw a reader in. This is a stand-alone but it will leave you craving more of the Lawrence family. To use a rodeo term this story is sure to hog-tie you to your seat until you've completed this rodeo. Ms. Anderson has given her readers characters that you feel for right down to the bone marrow, they live breathe and the story compels. It may actually get you think about the "press" as well. In all honesty this is one you just need to go get and fall in love with.

Book Info:

Publication: April 3rd 2018 | Harlequin Desire | First Family of Rodeo
He's always played by his family's rules.Until he plays house with his best friend's sister.Rodeo mogul Oliver Lawrence can't say no to his best friend's sister, pregnant widow Renee Preston. When the innocent beauty needs refuge from the tabloids, he offers his penthouse–and his bed. The passion between them is anything but innocent. And soon Oliver must choose: protect his family from her scandal or stand by the woman he can't let go…