His Rebel Heart by Amber Leigh Williams: Sometimes when people are young they make some rash decisions.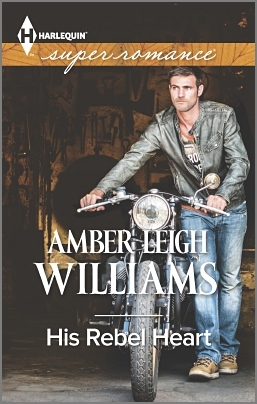 These choices can spiral out of control until you believe you are no longer in control. Once you are able to regain control and try to make things right, then your entire world starts to shift yet again.
Adrian Carlton made a choice eight years ago that changed her world forever and like most choices teenage girls make it revolved around a boy. That boy changed her world and then left it just as suddenly. Now eight years later she's still living with those choices and for the most part successfully when all of a sudden she realizes that fate can be a fickle lady.
James Bracken had been the golden boy, until the death of his father, then all hell broke loose. The goodness inside him wasn't completely gone though and some of his more interesting choices were because he thought he was doing the right thing. Finally though he realized he really needed to man up and correct his past so he moved back to the small town he had left so many years ago, not knowing what he would find.
James and Adrian knew fate was a fickle mistress when without any prior knowledge James bought the house next door. Only time would tell if there could be any healing of old wounds but there were definitely those rooting for them.
This wasn't anything like I had expected when I started the novel. Ms. Williams does a wonderful job spinning out a story and this is no exception. The plot twists and turns minorly but enough to keep the reader interested. There are plenty of secondary characters and secondary story lines, but the main plots shines through, she just does a great job setting up other books if she chooses to go down that path. Her descriptions of everything are wonderful. Fair warning there is a bit of violence to this one though and while I understand it's importance to the story line, it's not exactly for the weak of heart. This is a great meaty novel with arcs of hidden child, past loves, second chances, battered wives, and friendships to name a few. Well done Ms. Williams for covering a lot of tropes and doing it very well.
Although I do have to say I've been taken with covers lately and while I love this one, I think it would have been more appropriate to have him in one of his cars, rather than a motorcycle. Still the man does work well…
Book Info:

Publication: Published July 7th 2015 | Harlequin SuperRomance |
Can a rebel ever change his ways?
Being a single mother and successful florist is tough, especially when your new next-door neighbor is the man who shattered your heart. Eight years ago, bad boy James Bracken walked away from Adrian Carlton…and their unborn child. Now he's back. And Adrian's desire to protect her son from the truth of his biological father isn't enough to hide the wild blue eyes of father and son, or to keep Adrian from surrendering to the raw passion between her and James. But is he truly the changed man he claims to be? Maybe this time his rebel heart really is home to stay.