Holiday with a Stranger by Christy McKellen When Josie's business partner ordered her on a forced holiday, she wasn't going to take it lying down. She had her laptop, and as sumptuous as the French farmhouse in the countryside was, she'd continue to work as inspiration hit. It just so happened to hit just after a shower, and apparently, when the co-owner of the house arrived and demanded to know what she was doing in his bedroom…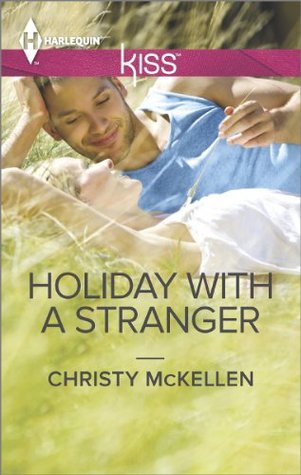 Connor couldn't believe his ex had found him at his place in France, but when the woman turned around and grabbed the towel, it wasn't his ex – it was some other woman. Apparently – his sister's business partner. Not that he cared, his family had cut him out of their lives years ago. He had every right to ask this woman to leave, even if his sister still co-owned this house.
But in the morning, things looked a bit different. Connor threw out a challenge and Josie not only stood up to face it, but she met it head on. So what if it was just to cut his hair – and maybe he kinda liked how it felt when she ran her fingers through it, but he kinda liked the spark in her eyes. And Josie wasn't about to just up and leave. She'd been there first, and damn him for pushing her.
Now her laptop was damaged, they were intellectually matched, he didn't give a whit about who her family is, and she didn't seem to need any entanglements. Connor and Josie could maybe even give in to their mutual attraction for a few days and live a little. But when they get around to talking, why do they want to let each other know things about themselves they don't share with anyone else?
There were a couple of red herrings in this book, and I kinda like that they weren't seized upon. They would've been a little cliche – so the fact that they were n't used as plot points was good indeed. I loved that Connor stood up for her, and even got very angry with Josie's family when he finally sees them – because I kinda thought they were callous towards her.
The whole mess between Connor and his family was complex, and I would've liked to learn more about it, but that would've been a whole book to itself. We get to see it from both sides – kinda, so there's that. It goes to show how an issue like that can tear a family apart, and that he could connect even in the small way he did near the end was pleasant. I like the start Josie makes as well on her issues – a good message to people that might have workaholic tendencies.
Another good KISS title – looking forward to more from Christy McKellen!
Book Info:

Published March 1st 2014 by Harlequin KISS
"Who are you?"
After three months of travelling, all Connor Preston wants to do is sink into his own bed. The last thing he expects is to find a stark-naked woman already there….
Josie Marchpane wasn't anticipating company either. Connor may be six feet four inches of pure muscle and boast a disturbingly sexy smile, but a fortnight in the South of France is the one thing standing between Josie and her sanity—and she's not about to give it up without a fight!
Because Josie plays to win. The problem? Connor does, too. And with only one bed between them, things are about to get interesting….