In Hour of the Wolf (Maggie's Grove #5) by Dana Marie Bell, powerful shifter Noah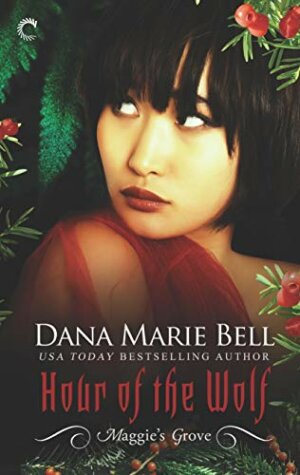 Wulfenbach is determined to claim his mate, dryad Ivy Yamauchi, now that she's finally recovered from the injury she suffered that made her retreat to her tree form. However, they soon realize the threat to their lives is still there. Will Noah be able to keep Ivy safe or will they lose their shot at happy ever after?
Iva patted her back, her expression content, her eyes closed as she soaked up the Forest Queen's presence. Like Noah, Mina's touch didn't hurt, but instead soothed her. It was the magic of her queen, one Iva had also missed. "I'm here, my queen. I promise, I won't leave again. The ones who did this to us will pay." Greer and Ash exchanged a quick glance. Iva stroked Mina's back. "I swear to you. They will pay."
Every book I've read by Ms. Bell has been marvellous and I love how she encompasses well-written dialogue that balances emotional moments and fun and teasing banter exceptionally; interesting back stories and fast-paced storylines that really make this reader connect with her characters; and constantly pulls this reader into her storylines immediately and make me cheer for the couple to get their happy ever after, especially because there are always plenty of obstacles for the pair to overcome.
"Aw, shucks." She leaned into him, her shoulder brushing his chest. "Thanks, wolfman."
His brows rose, his expression amused. "Wolfman?"
She shrugged. "Scooby?"
That slight grin turned into a scowl. "Wolfman is fine."
As for the main characters, I absolutely loved Iva. She's so strong and brave after everything she's been through. Healing herself wasn't easy but she needed to do whatever she could to survive and make sure that Maggie Grove survives too. Because without them all, the supernatural world could become tainted by those that want to hurt them. Will Noah and Iva and their friends and family be able to defeat the bad guys? I also liked how she teased Noah and said things that made me laugh and had me smiling because he's a wolf and how could she not possibly make wolf or dog jokes. Then again, I liked how Noah took everything she said in stride too. He's such a wonderful and charming mate. While the hero, he's definitely all alpha with his protectiveness of Iva and his determination to get to know her, even if he is worried about claiming her straight away after everything she's been through. What would happen if Noah tried to claim Iva without making sure that everything was all right for him to? Could he be affected by whatever happened to Iva?
Overall, Ms. Bell has delivered an utterly captivating read in this book where the romance was heartwarming, as Noah claims his mate and Iva is more than ready to be claimed; the chemistry between this couple was intense right from the moment they come face-to-face for the first time; and the ending had me on the edge-of-my-seat because of what happens in their fight against the bad guys but had me loving that this pair achieve their happy ever after and show that they're stronger together than apart. I would recommend Hour of the Wolf by Dana Marie Bell, if you enjoy paranormal romance, alpha werewolves or books by authors NJ Walters, Marie Harte, Suzanne Wright and Shelley Laurenston.
Book Info:

Publication: July 22nd, 2019 | Carina Press | Maggie's Grove #5
Not much worries Noah Wulfenbach, one of the most powerful shifters in North America, but questions about Iva Yamauchi's recovery had made him anxious. He was vigilant in his caring for his mate, sitting beside her tree, talking to it—to her. Now that she's back, Noah's relief is matched only by his desire to drag the feisty dryad to his house to complete their mating bond.
Iva is ready to make up for lost time, especially with the delicious Alpha Prime of the werewolves, her fated mate. She and Noah had only just recognized their connection when she was injured and broken, forced to retreat to her tree. She's curious and excited to find out just how firmly she's tied to Mr. Tall, Dark and Growly.
Before Iva and Noah can explore the depth of their connection, supernatural hunters threaten the population of Maggie's Grove. Together with the other town rulers, the fated pair must slay the demon-possessed leader of the hunters. Iva and Noah just found each other; they're not ready to say goodbye…but they may not have a choice.