In How Not to Die Alone by Richard Roper, Andrew's job with the city council in London might seem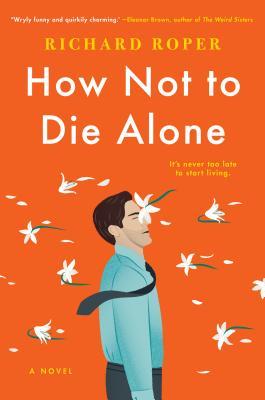 dismal to some. But it means the world to him to be able to give those citizens who pass away with no next of kin a proper send off. It is admittedly not a job for the faint of heart. Particularly the home inspections, which can range from being outright sad in their starkness to a horror show with the level of decay and trash he encounters. So when Andrew is set to train new hire Peggy, he tries to warn her of what they might encounter. Little did he know that she would be the one who would give him a fresh outlook on life, teaching him a few things about how to deal with his job–and with their frustrating coworkers who insist on butting into everyone's lives.
'It felt like a ticking time bomb–like it was only a matter of time before Peggy found out the truth and he'd lose the first friend he'd made in years. One way or another, he knew that something had to give.'
Andrew is also faced with a big decision when it comes to his friendship with Peggy. A tiny fib he told when first hired for the job about five years ago has now snowballed into having created a fake family complete with enough details to make it seem real to his coworkers. But if Andrew is to have a real go at a relationship with Peggy, he'll have to decide if living with his lie will push her away or if admitting the truth will be their downfall. Andrew has lost a lot in his forty-something years. And he's not sure how to press forward without going through that hurt once again.
'He might not know what the future held–pain and loneliness and fear might still yet grind him into dust–but simply feeling the possibility that things could change for him was a start.'
How Not to Die Alone might have a macabre-sounding title, but debut author Richard Roper somehow wove bleak subject matter together with a charming (if not bumbling) hero whose messy life, slowly spinning out of control, finally saw a spark of hope for the future.
'There was nobody for him to share the story with. No one to help him laugh his way through it. Loneliness, however, was ever vigilant, always there to slow-clap his every stumble.'
I do have to warn readers right away that where the hero's job was to inspect people's homes, sometimes months after they had died, the vivid descriptions of the messes inside might be too much for some. (Think Hoarders to the Nth degree…) And poor Andrew's job itself, from going through those homes for clues about the deceased to his horrible coworkers, it had me instantly wondering how the poor man dealt with everything. But there was sadly a lot that Andrew endured over the years, which we found out about little by little. As I was reading this, I just knew there was some traumatic event he'd been through–and it wasn't until the last quarter of the book that we found out the details. It was a bit of a surprise in some ways, but it certainly made Andrew's decision to live with his white lie for so long understandable and utterly bittersweet. And it made his lifestyle, from his love of model trains and Ella Fitzgerald to staying in a crappy apartment for two decades, make perfect sense.
The few secondary characters we met along the way each played an important role in Andrew's debacle. I thoroughly enjoyed his coworker Peggy and found her to be a refreshing addition to his life who turned things upside down for our hero. The friendship between them was sweet and absolutely lovely. They were so much alike in some ways: kindhearted, loyal to a fault, stoic in some regard. On the flip side was Andrew's other coworkers Cameron, Meredith and Keith, as well as his sister's boyfriend, Carl. They all took turns being at the top of my bad list with how they treated him–and each other, really. It may have taken a long time, but I loved how things progressed for Andrew by the end of this book and thought it left off in a wonderful place, full of promise.
Introspective, poignant and superbly written, How Not to Die Alone was the type of novel to make you think, reflect on your life and even on how you interact with others. It might sound like a morbid premise, but I thought Richard Roper showed us the beauty that can sometimes come out of grim events–as well as how healing after any type of loss can open up a whole new world to us.
Book Info:

Publication: May 28th 2019 | G.P. Putnam's Sons |
A darkly funny and life-affirming debut novel for readers of Eleanor Oliphant Is Completely Fine the story of one man who is offered a second chance at life and love when he develops an unexpected friendship–if he can expose the white lie he told years ago that grew into so much more.
Andrew's day-to-day is a little grim, searching for next of kin for those who die alone. Thankfully, he has a loving family waiting for him when he gets home, to help wash the day's cares away. At least, that's what his coworkers believe.
Andrew didn't mean for the misunderstanding to happen, yet he's become trapped in his own white lie. The fantasy of his wife and two kids has become a pleasant escape from his lonely one bedroom with only his Ella Fitzgerald records for company. But when new employee Peggy breezes into his life like a breath of fresh air, Andrew is shaken out of his routine. She doesn't notice the wall he's been safely hiding behind and their friendship promises to break it down.
Andrew must choose: Does he tell the truth and start really living his life, but risk losing his friendship with Peggy? Or will he stay safe and alone, behind the façade? How Not to Die Alone is about the importance of taking a chance in those moments when we have the most to lose. Sharp and funny, warm and real, it's the kind of big-hearted story we all need.