How to Resist Temptation (Gold Coast Angels) by Amy Andrews: Cade Coleman has moved to Gold Coast City Hospital for a new life, leaving a scandal in New York far behind him. He his determined to redeem his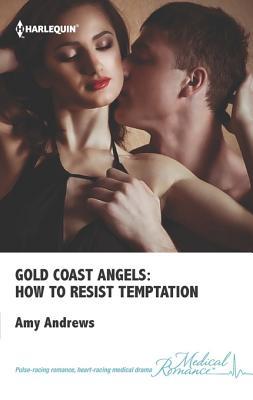 heartbreaker reputation by keeping women out of his life and focussing solely on his career. But temptation encounters him everyday in the form of Dr.Callie Richards.
Callie's first meeting with Cade at a wedding was very much humiliating when he rejected her advances. But resisting temptation after a glorious one stand night is getting harder day by day…
The final book in the Gold Coast series was a well written romance with good with interesting medical details and lots of heat. Both the characters are neonatal doctors and have an unfortunate past which continues to define them. Callie was a woman who did not date and was into no strings attached one night stands. She was not a bad heroine, I just did not share her frequency and would not have reacted the way she did in certain situation. I liked Cade because I could understand him more than Callie. It was fun to read an unconventional romance with the heroine doing the chasing and the hero dodging her efforts.
I just wished their was a sort of an epilouge giving a closure to all the stories in this series.
Overall, How to Resist Temptation by Amy Andrews is a fitting end to the Gold Coast series with an unconventional, steamy and fun romance who want something different from the medical line. Recommended for Amy Andrews fan and anyone looking for an unconventional heroine and romance
Book Info:

Published November 1st 2013 by Harlequin Medical Romance | Series: Gold Coast Angels #4
Rule #1 for Dr. Cade Coleman: redeem his heartbreaker reputation!
That's why this drop-dead sexy playboy has moved to Gold Coast City Hospital, leaving a scandal in New York far behind him. But the delicious Dr. Callie Richards has him falling at the first hurdle!
Usually strictly professional, Callie finds her encounter with Cade knocks her off her feet. Only, it's clear he's determined that there'll be no reruns. While she knows she should try to forget that amazing night, too, Cade–who's so hot he should come with a health warning–is the ultimate temptation!