How to win the Surgeon's Heart by Tina Beckett is the second Medical Romance I have read in recent times and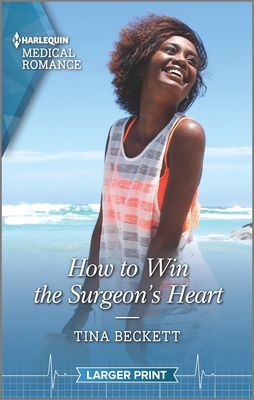 I have become quite the fan of this line. The research is very well done and the reader can learn lot of interesting details about medical issues. Since my first career was in hospital labs and having relatives in nursing careers, I find it fascinating to learn more in an entertaining way.
Nate Edwards has certainly sacrificed a great deal by leaving behind his family's prestigious plastic surgery practice and using all his trust fund money to start a special clinic on a Caribbean Island that serves both wealthy looking for privacy and those who cannot afford care. He is a special doctor who treats everyone with respect. His main issues seem to be with trust and fear of commitment after a traumatic breakup.
Sasha James has lived most of her life on the island, only leaving to take advantage of a scholarship for college and medical school in the United States. She could have stayed in America and made much more money. Her first priority is her friends and family on the island. Her mother Tassi is a woman who is strong and you have to admire her for working so hard and her fierce loyalty.
When Sasha first gets to know Nate she sees him as possibly being wealthy and uncaring as her former longtime boyfriend who left her behind. The author deftly shows how slowly, but surely the two main characters come to see beyond the exterior each projects out of fear. Their love story is spicy, but sweet.
I continue to love stories that are multicultural. How much better things would be if we could see most people from different backgrounds and cultures have more in common than differences.
This novel is #1 in the Island Clinic series to be written by multiple writers. I would love to continue with lovely series and feel I am on a sandy beach.
Book Info:

Publication: June 29, 2021 | Harlequin Medical Romance | Island Clinic #1
hings are heating up…
…in their Caribbean paradise!
For Dr. Nate, work is everything. Without him, his renowned hospital wouldn't exist! Now he's ready to step up to the plate—again!—as nearby St. Victoria Hospital faces a staff shortage. Surgeon Sasha is beyond grateful for the help, but she's not so sure about Nate… Her heart's been broken by wealthy and far-too-attractive men before! Can Nate prove to Sasha he's different?