In I Only Have Eyes For You (The Sullivans #4) by Bella Andre, Librarian Sophie Sullivan, aka "Nice", has had a secret crush on Jake McCann for nearly two decades. As one of her older brother Zach's best friends, she followed them around but Jake never took notice of her. So when she has a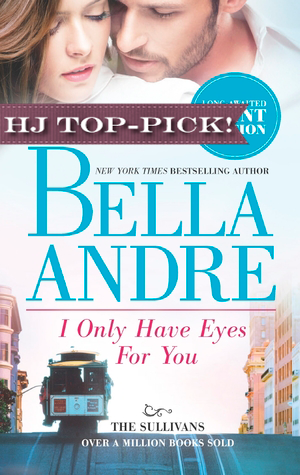 chance to grab his attention at a family wedding, Sophie takes the scary step to try and shed her nickname Nice for once and for all.
"But you never noticed me, not until the wedding when I wore that dress and had the makeup artist make me up."
His eyes were dark, his face as serious as she'd ever seen it. "Trust me, I noticed you before that. A long time before that."
Jake McCann's troubled childhood meant he had to learn early how to protect himself, both from physical and emotional harm. Once he was befriended by the Sullivans, he finally had a stable house to visit and went on to become the unofficial "ninth Sullivan kid". Jake knew from the moment he saw Sophie that she was special and would make someone the luckiest man on earth someday. But he knew then and still knows now that he's not good enough for classy, educated Sophie. If only his heart would figure that out as well.
"I shouldn't do this." Each word from his lips was raw. Broken. His face was ravaged with conflicting emotions. "But I can't walk away this time. I need to have you, Sophie."
"Yes," she urged him, "take me. Now."
Book four in The Sullivans series is an incredible romance that has been brewing for two decades! Aside from Kissing Under The Mistetoe, which is Sophie's parent's story, this one probably touched my heart the most out of the others I have read so far.
By the time I was a quarter of the way through the book, I had wept like a baby, laughed out loud, and yelled at my kindle. Yes…I yell at my e-reader sometimes. Bella Andre puts us through the emotional wringer along with Sophie and Jake, but it is so worth it. It was wonderful to see them get their HEA, although they had to go through a whole lot to get there, including meddling family members and dealing with their own insecurities.
I identified so easily with Sophie. She described herself as feeling invisible and always fading into the scenery, being looked at as the sweet, Nice twin to her sister Lorie's Naughty demeanor. Her love for literature and helping others with reading difficulties certainly didn't hurt either. But Sophie proves that she is a lot stronger than she or her family gives her credit for. And I loved that it was Jake who was able to point this out to her. Jake was such a sexy alpha man who, even though he grew up tough, is a gentle giant when it comes to Sophie. He has a bad boy reputation to keep people out but it's a sassy librarian who finally breaks through the walls he's built around his heart.
'God, how he loved the idea of making love to the prim and proper librarian…and turning her into the wild lover he now knew she was underneath it all.'
I Only Have Eyes For You is a charming, passionate tale of two people who are destined to be together. This is the perfect story for all of you contemporary romance lovers out there!
Book Info:

HJ Top Pick
Published September 24th 2013 by Harlequin MIRA | Series: The Sullivans #4
The sweetest temptation
Sophie Sullivan fell head over heels for Jake McCann at the age of five. Twenty years later, the notorious bad boy still sees her as the "nice" Sullivan twin. When they both get caught up in the magic of the first Sullivan wedding, she knows it's time to make him see her for who she truly is – the woman who will love him forever.
Jake has always been a magnet for women, but the only woman he really wants is the one he can never have. Not only is Sophie his best friend's off-limits sister – he can't risk letting her get close enough to discover his deeply hidden secret.
But when Sophie appears on his doorstep, Jake's every fantasy comes to life, and he doesn't have a hope of taking his eyes, or hands, off her. Jake knows loving Sophie isn't the right thing to do, but one look at her and he knows he can't possibly resist.