I See You by Mary Burton is the second book in her Criminal Profilers series. The twists, turns and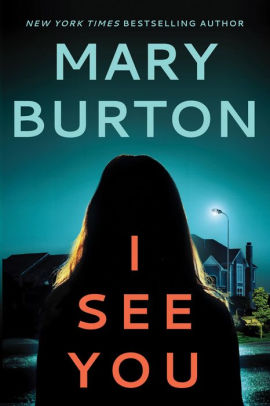 surprises will keep readers turning the pages until the very end.
FBI Special Agent Zoe Spencer is a profiler who uses her artistic talent to help solve crimes. She has been working for weeks to recreate the face that belongs to the burned bones discovered by an out-of-work investigative reporter who received a tip about the location of the bones.
To everyone's surprise it turns out the bones belong to a missing teen who disappeared eighteen years ago. Zoe ends up working the case with her on-again/off-again lover, homicide detective William Vaughn. The attraction between Zoe and William is undeniable. But they have a murder to solve so… Or is that murders, plural?
Ms. Burton has written a tight storyline filled with suspense. Her characters are well-developed and realistic. I totally enjoyed this book. Mary Burton is one of my favorite authors and I See You is one of her best books yet!
Get ready to experience some chills and thrills. Author Mary Burton treats her readers to a turn-the-page experience in her latest release.
Book Info:

Publication: October 8th 2019 | Montlake Romance | Criminal Profiler #2
From New York Times bestselling author Mary Burton comes a gritty, suspenseful story in the Criminal Profiler series.
FBI special agent Zoe Spencer uses skeletal remains to recreate the faces of murder victims through sculpture. Though highly scientific, the process is also sensitive and intimate; she becomes attached to the individuals she identifies, desperate to find justice for each.
As Zoe examines old remains, she sees a teenage girl looking back at her—the victim in a cold case from over a decade ago. Zoe wants nothing more than to tell this young woman's story and to bring her killer to justice.
Zoe's case leads her to the victim's hometown and to homicide detective William Vaughan, Zoe's on-again, off-again lover. As the two become more involved in the case, they quickly realize that it isn't as cold as they first believed: someone's still out there hunting women. And with more women gone missing, time's running out. Can they work together and stop this madman before he kills again?