In Illusion Town (Harmony/Ghost Hunters #13) by Jayne Castle,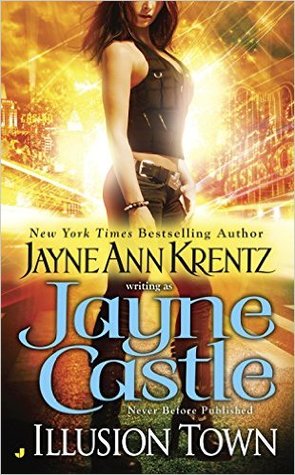 When Hannah West, aka The Finder, began working with Elias Coppersmith online to find a family heirloom for him, she didn't think it would ever lead to them meeting in real life. Or that she would wind up in a Marriage of Convenience with the handsome engineer. But that's what happened. The problem? Well, one of many, is that neither Hannah nor Elias can remember what happened to them. Although they do know they were on the run from some assailants when they got hitched. As she tries to understand her intense connection to him, Hannah realizes that Elias might just be who she's needed in her life all along.
"By the way, one more thing you should know about our current situation."
She paused in the doorway and looked back at him. "How bad is this one more thing?"
"Depends upon your point of view. We're married."
Elias felt like he knew Hannah before they even met in person, so it comes as no surprise that they ended up getting married to protect each other. But he didn't expect to be amazed by her strong psi talent and to find out that his own talents mesh so well, making them a formidable team against their evil foes. With the help of Hannah's family–and her dust bunny Virgil–Elias and his new bride set off to make sense of the recent attack on her home and business and to see if it has a connection to events at the Coppersmith mining site in Ghost City. Where their journey will lead them is anyone's guess.
"I love you," she said.
He smiled a slow, compelling smile. "Took you long enough to figure that out."
"You were so sure?"
"No, but I come from a family of incurable gamblers, remember? We've got a long history of playing for high stakes. We've also got a long history of winning."
What a fun ride it was visiting Illusion Town and following Hannah and Elias on their exciting journey underground. This definitely had something for everyone: bad guys giving chase, a heated connection between our main characters, a strong sense of community. And dust bunnies, of course!
'In Illusion Town, the thrills are real.'
There's just something about Jayne Castle's writing 'voice' that gives me the warm & fuzzies every time I read one of her books. I love the multidimensional characters, the sophisticated plots and especially the dialogue she creates. Her stories are imaginative, playing out like a movie on the pages. But most of all, it's the sense of humanity that I love about the characters and the situations they find themselves in. Their reactions, Hannah and Elias included, always seem real, which draws me in to the book even more.
This had a pretty complex plot with a lot going on, but Illusion Town can easily be read as a standalone. I can say I really enjoyed Elias and Hannah right from the start. They were both smart and capable, working together as a great team on their adventure. Elias was a geeky but lovable engineer. A Mr. Fixit, if you will. And he knew immediately that Hannah would change his life for the better. I loved how steadfast he was in thinking of their relationship as not just one of convenience, but as a lasting, honest one. Elias's hopefulness was swoon-worthy, that's for sure.
Hannah was such an independent, strong woman, although, she admittedly also had some insecurities and trust issues, but not without warrant. I thought her belief in her dream-walker abilities was admirable and she proved over and over that she was stronger than she was given credit for. And watching Hannah fall for Elias was so much fun. She didn't want to trust her intuition about it, however she had to face the fact that she was head over heels for the guy. Oh…and Virgil, her dust bunny! I can't forget about him. He was super protective of Hannah and was a big help with their search for answers. Plus, Virgil was such a sweetie, all fluffed up with his beloved Arizona Snow doll held firmly in his little paw. So. Cute.
Illusion Town was an entertaining whirlwind through the Dark Zone and the underground in Ghost City. Filled with charming characters and Castle's intriguing world built around psi energy, this will make you a fan of the series if you aren't already.
Book Info:

Publication: Published July 26th 2016 | Jove | Harmony/Ghost Hunters #13
A new adventure begins on Harmony…
With its opulent casinos and hotels, the desert city of Illusion Town is totally unique—and will take you on a thrill ride you'll never forget.
Hannah West isn't the first woman to wake up in Illusion Town married to a man she barely knows, but she has no memory of the ceremony at all. For that matter, neither does Elias Coppersmith, her new husband. All either can remember is that they were on the run…
With Hannah's dubious background and shaky para-psych profile, she could have done much worse. The cooly competent mining heir arouses her curiosity—as well as other parts of her mind and body. And even her dust bunny likes him.
But a honeymoon spent retracing their footsteps leads Hannah and Elias into the twisting underground catacombs, where secrets from both their pasts will come to light—and where the energy of their clashing auras will grow hot enough to burn…