In Immortal Born (Argeneau #30) by Lynsay Sands, Allie Chambers has been on the run the past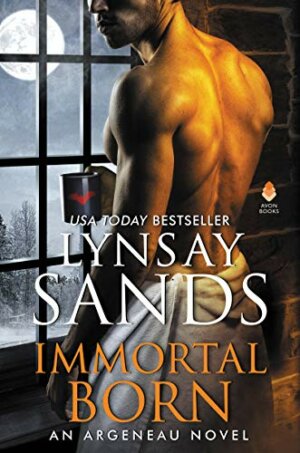 four years, trying to keep her best friend's immortal son Liam safe and out of the hands of the evil monsters forever tracking them down. He has become her entire world in a short time and she couldn't love him more if he was her own biological son. So when two huge immortals burst onto the scene promising help, Allie is reluctant to believe them. She doesn't want to risk her, or especially, her son's life. But the pull she feels to one of the immortals, Magnus, is one she can't let go of, making her begrudgingly take a chance. Allie just didn't realize it would also test everything she has come to understand about herself after learning she's a potential life mate to Magnus.
'She was now one hundred percent certain she did love him. Because looking at him right now was making her heart hurt and filling her with a longing to take him in her arms and simply hold him and never let go.'
Magnus is like any ancient immortal in that he has spent centuries hoping, but not necessarily believing, that he would find his life mate one day. The fact that he finds Allie at all is remarkable. And that she is caring–very well, he might add–for an immortal child who is absolutely precious is just a bonus. But Magnus knows he has his work cut out for him. Allie isn't sold on him being her life mate, let alone on love itself after her tragic childhood. And there's also the matter of dangerous rogues out to take Liam from his life mate's hands. Magnus has many hunter friends and knows they can eventually track down the rogues. It's changing Allie's mind about their future together that will likely be the most difficult challenge for the seasoned warrior.
"We are life mates," he said solemnly. "What's mine is yours."
"But I have nothing to offer you in return."
"You have everything. You *are* everything… Anywhere we live will be a home with the two of you in it, and that is something I have yearned for, for more than a thousand years."
Immortal Born was another adventurous installment in Lynsay Sands' long-running Argeneau series which kept me enthralled from page one with its danger, and the wonderful examples of compassion and selflessness.
"You are immortal born. The nanos have removed the scars from your old life… This is a new life for you, Allie. A new beginning. You do not have to carry any of the past with you if you do not want to."
It's pretty incredible that at book thirty in the Argeneau series I'm still entertained by the characters, and that the overall story arc continues to be interesting and engaging. But I think that's something that Lynsay Sands does well with any of her series I've read, no matter the genre. Her writing remained solid, with the world she's created for the Argeneaus as complicated and detailed as we've come to expect and in this case, the level of intrigue still just as exciting as ever.
Immortal Born was a little bit different than some of the previous books where our heroine already (sort of) knew about immortals and was enmeshed in that world–whether Allie wanted to be or not. I adored how she cared for immortal child Liam, taking over for his mom after a sad turn of events. Allie was a fierce protector and it was clear how much she loved him. Although Liam was super easy to love. He was kind, polite, and just a wee bit mischievous like a little boy should be. (lol) It was Allie's waffling in regard to Magnus that while I understood part of it–let's just say she didn't grow up with much love and/or trust–her view of him was more like one of friends instead of life mate. And it didn't change into something more until late in the story.
Magnus, though, was a pretty cool hero. He wasn't quite as alpahole-ish (that's totally a word) as some of his friends have been in other books and instead he had a fair grasp on how to treat a woman in today's world. Magnus was even wonderful with Liam. I loved their moments together, many of which were pretty sigh-worthy. And where this was set mainly in Port Henry, we got to visit with several castmates from other books which was fun. I liked seeing how Magnus interacted with them all–very respectfully, actually–and watching Liam have friends his own age for the first time will surely make readers smile. I do have to say that once Magnus and Allie did give in to their shared attraction, things moved forward at light speed, showing how great a pair they really did make after all the hemming and hawing about it. And because of that, this ended up 4 stars instead of the 3.5 stars I was stuck on until that great ending.
So many things changed and shifted in Immortal Born that it not only made for a thrilling ride, it seems to mean there might be a different focus for the rogue hunters in the future. And I can't wait to see where Lynsay Sands takes us from here.
Book Info:

Publication: Published September 24th 2019 | Avon | Argeneau #30
A simple promise to protect her friend's infant son has turned Allie Chambers' existence upside down. Caring for—and feeding—an orphaned vampire baby has been tricky enough. But as little Liam grows, so does his appetite. He needs more blood than she can personally supply. And when her attempts to steal from a blood bank go awry, Allie wakes up surrounded by doctors, cops…and the gorgeous, mesmerizing Magnus, who she can neither trust nor resist.
Magnus never expected to find his life mate breaking into a blood bank. Clearly, Allie is already entwined with his world—in deeper, more dangerous ways than she realizes. A band of vicious rogue immortals is in pursuit, and Magnus' first task is to keep her safe. His second: to awaken her to mind-blowing pleasure, and hope she'll accept the life, and the passion, that only he can offer.