In In Her Sights by Katie Ruggle is about Molly Pax, who runs a bounty hunting business with her sisters. Her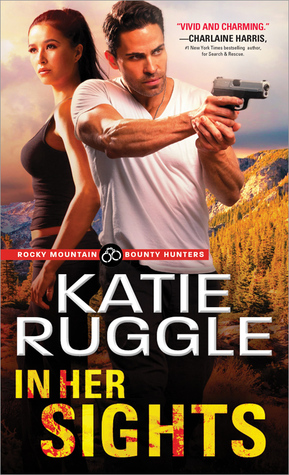 mother jumps bail and puts their home, which is also where they run their business out of, up for collateral. In order to save the home from another bounty hunter, she agrees to track down a dangerous criminal. Rival bounty hunter John Carmondy offers to help. While she thought he had previously tried to steal her skips he was actually trying to help her out. But will they be able to survive their most dangerous skip yet?
The banter back and forth between John and Molly was entertaining. It was clear John was interested in Molly, but she had no idea. Even her sisters could tell her was interested, but Molly was too buried in the job to see what was around her. Their romance was a slow-burn and took a while to build up.
Molly had to act like a mother to her sisters because their mother had been too immature and never actually acted like a mother. The fact she stole a necklace, put up the house as collateral, and then skipped town proved that. Not only that, but she put her daughters in danger by telling other criminals the necklace was in the house, leading to multiple attempted break-ins.
While I enjoyed Molly and John's journey, but I felt the suspense was lacking in this book. There was one point where things really ramped up, but other than that it was little to non-existent. Also, things were unresolved with Molly's mother, so I assume that is going to carry onto future books in the series.
Overall I thought this was a decent start to the series. I'm looking forward to seeing what's in store for Molly's sisters and what will happen to their mother. Readers who enjoy the trope of rivals to lovers will enjoy this one. I would also recommend it to readers who enjoy a small amount of suspense mixed into their romances.

Book Info:

Publication: March 26, 2019 | Sourcebooks Casablanca | Rocky Mountain Bounty Hunters #1
Bounty hunter Molly Pax fought hard for everything she has, turning the bail recovery business she shares with her sisters into an unqualified success. So when their sticky-fingered mother jumps bail and puts the childhood home up as collateral, Molly's horrified. To make matters worse, every two-bit criminal in the Rockies now sees her family's misfortune as their next big break.
She needs help, stat.
Enter rival bounty hunter John Carmondy: six feet of pure trouble, with a cocky grin to match. John's the most cheerfully, annoyingly gorgeous frenemy Molly's ever had the pleasure of defeating…and he may be her only hope of making it out of this mess alive.