In In the Dark with the Duke by Christi Caldwell  is the second book in the Lost Lords of London.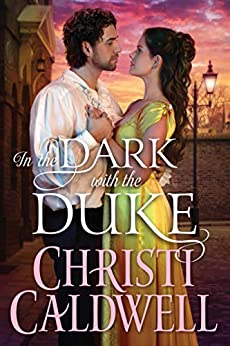 The storyline of the series, recovery of heirs that are lost as children, is unique and the author was able to totally pull it off and make it believable. The book was beautifully written, full of emotions, and so hard to put down once I started reading.
Lady Lila March was traumatized eight years ago when her naïve idea to attend a rally in Manchester turned into a disaster, leaving her scarred, scared of crowds, and a recluse. Her widowed sister, Sylvia wants to return to Society, and Lila is tired of hiding in the shadows. She decided she needed to learn how to fight so she can keep herself and her family safe. Her determination to learn makes her brave enough to go to East London to find Hugh Savage, a ruthless fighter. She wasn't expecting the emotions he caused her to have. With his help, her confidence in herself and her love for Hugh grew.
As a child, Hugh Savage had no choice but to fight in the underground children's bare-knuckle ring because the Fight Society controlled him and the other children. The fights became more and more brutal until they finally became deathmatches. Hugh hated the ruthless noble lords who were responsible for locking up the children and making them fight until death. When his handler offered him freedom in exchange for him winning and killing his opponent in a match, Hugh took it. He thought he was done fighting but with no other options, he joined the Army to survive. Two of his previous child fighters, Maynard and Bragger, gave him shelter, a job, and a way to survive when he returned from war. He felt indebted to them for their help and guilty for leaving them behind when he escaped. Maynard and Bragger wanted revenge against the noble lords who had started the club and they thought Hugh becoming the Duke of Wingate was their way of identifying them.
Lila and Hugh were two troubled souls with dark pasts. By opening up to each other, they manage to overcome their pasts and become stronger individuals. Hugh finally sees that Lila's dream is to learn self-defense to protect herself and her loved ones, not to fight to hurt. Lila comes to understand that even with all her suffering she doesn't understand what it is like to have no options. Therefore, she could not judge Hugh for the decisions he made in the past. She understands his abhorrence of violence and is overwhelmed that he was willing to help her obtain her dreams. This was another terrific book for the series, and I can't wait for the next book.
Book Info:

Publication: June 9th 2020 | Montlake | Lost Lords of London #2
Eight years ago, Lady Lila March retreated to the safe shadows of her family's estate after a devastating tragedy. Weary of being a whisper of her former self, she is determined to brave the dangers of the outside world again. No man is better equipped to train her in the art of defense than the Savage Gentleman, East London's undefeated street fighter.
Hugh Savage reigns as king—of the underworld. Physically invulnerable, emotionally battered, he has his reasons for bare-knuckle brawling. Though Hugh longs to break free of the ring and leave behind the brutal world of violence, he's intrigued by the challenge Lady Lila poses. A mysterious lady of the peerage willfully descending into the dangerous rookeries? That bespeaks a woman with secrets of her own.
As their unconventional pact progresses, Hugh comes to admire the resolve in Lila's heart. And beneath his hard surface, she sees a tenderness that touches her to the quick. They'll soon discover how much they need each other—to face their pasts together, and to fight for a future they deserve.