Jar of Hearts by Jennifer Hillier: For Georgina "Geo" Shaw being the youngest Vice President at Shipp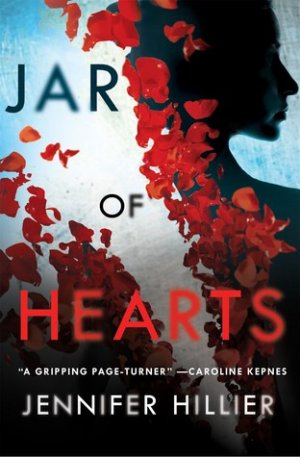 Pharmaceuticals Company isn't always easy but her mid-level six-figure salary and being engaged to the company owner's son who also happens to be the company CEO makes life pretty darn good.
What isn't anywhere near as good, to put it mildly, is being incarcerated in Hazelwood Correctional Institute – otherwise known as "Hellwood." She was arrested in the middle of her presentation at work, then made a plea deal. She was sentenced to five years of living hell because she never told the police the location of her friend's body or who murderd her. Of course she knew all the details because she was there when it happened.
I found this to be an interesting read. The description of Geo's life in the women's prison was fascinating and yet also horrifying. How author Jennifer Hillier described the adjustments Geo made after her release from prison was thought-provoking.
I was glad to see that Detective Kaiser Brody, who was Geo's arresting officer, never forgot their school friendship and his feelings for Geo. This was a very different read for me but I liked it.

Book Info:

Publication: June 12th 2018 | Minotaur Books |
When she was sixteen years old, Angela Wong—one of the most popular girls in school—disappeared without a trace. Nobody ever suspected that her best friend, Georgina Shaw, now an executive and rising star at her Seattle pharmaceutical company, was involved in any way. Certainly not Kaiser Brody, who was close with both girls back in high school.
But fourteen years later, Angela Wong's remains are discovered in the woods near Geo's childhood home. And Kaiser—now a detective with Seattle PD—finally learns the truth: Angela was a victim of Calvin James. The same Calvin James who murdered at least three other women.
To the authorities, Calvin is a serial killer. But to Geo, he's something else entirely. Back in high school, Calvin was Geo's first love. Turbulent and often volatile, their relationship bordered on obsession from the moment they met right up until the night Angela was killed.
For fourteen years, Geo knew what happened to Angela and told no one. For fourteen years, she carried the secret of Angela's death until Geo was arrested and sent to prison.
While everyone thinks they finally know the truth, there are dark secrets buried deep. And what happened that fateful night is more complex and more chilling than anyone really knows. Now the obsessive past catches up with the deadly present when new bodies begin to turn up, killed in the exact same manner as Angela Wong.
How far will someone go to bury her secrets and hide her grief? How long can you get away with a lie? How long can you live with it?