In Just To Be With You (Sullivans #12) by Bella Andre, CEO Ian Sullivan has an extraordinarily busy life now that he's back in Seattle at his company, Sullivan Investments. And he's glad to be near his family again, even if he hasn't had much time to spend one-on-one with them. What Ian can't get off his mind, though, is beautiful actress Tatiana Landon, ever since meeting her at his cousin's wedding in Napa. Their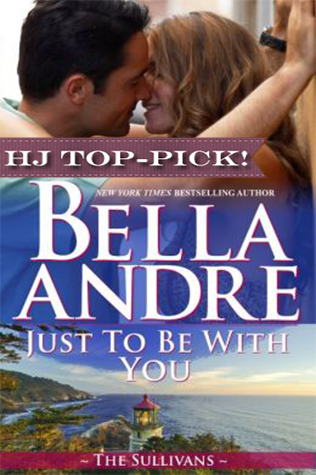 instant chemistry shocked him. But he's certain he is never going to fall in love again after his disastrous marriage fell apart a few years ago. One visit from Tatiana to his office, though, and everything changes. She brings Ian to his knees with her flat out honesty and threatens to shatter the walls he's put up to protect himself. How can one tiny woman create such havoc in his life and to his heart?
"And even if I tried my whole life to stop loving you, I would never be able to do it. Because you are the love of my life, Tatiana. Can you ever forgive me for not recognizing true love when you were right there in front of me?"
Actress Tatiana Landon has always dreamed of having a romance straight out of a fairy tale. When she meets Ian at her friend's wedding, sparks fly immediately and she knows he's The One. As fate would have it, she has to film a movie in Seattle so she cooks up a way to visit Ian and shadow him while he works. Tatiana can sense his attraction to her, but he continuously pushes her away. That's okay…she can be patient when she needs to be. But when things suddenly heat up between them, can she convince Ian to give them a fair chance or will he give up before they see where their relationship is headed?
"I waited this long for you and now that I've found you, I'm not giving up. And even if I have to keep waiting, I will."
Well, Bella Andre has done it yet again! Just To Be With You is another incredibly passionate romance in the Sullivans series, this time focusing on one of the Sullivan cousins in Seattle: Ian, and his tumultuous relationship with actress Tatiana.
I get completely swept away with the characters Ms. Andre creates every time I read one of her books. The protagonists are always so relatable that no matter what their situation, I feel that connection with them right away. I don't know how she does it…but I hope her writing never loses that quality. I can only think of a handful of authors that can keep me interested in a series this far into it (book 12!) and make the story so captivating that I hate to put it down.
There's a lot to love about both Tatiana and Ian. Although, I wanted to bonk Ian over the head a few times for pushing her away, but I digress. I thought Tatiana was fearless in her love for Ian. She knew he had built walls around his heart to protect himself and she wasn't afraid to get in his face with honesty. She also was his strongest supporter, aside from the Sullivans of course, and stood up for him and for their relationship. I really did like Ian, too. He had put so much guilt and blame on himself for his marriage ending years before and had never confided in anyone to get an unbiased perspective. Tatiana gave that to him, whether he wanted it at the time or not. Just like with the other books in this series, this couple had an undeniable attraction and were smoking hot during the love scenes!
If you are as in love with the Sullivans as I am, I'm sure you'll enjoy Just To Be With You. It's contemporary romance at its finest.
Book Info:

Published March 5th 2014 | Series: The Sullivans #12
Ian Sullivan, the powerful and wealthy CEO of Sullivan investments, has never failed at anything in his life…apart from love and marriage. Certain that he'll never take the plunge again, the last thing he expects is for a beautiful actress to turn his perfectly organized world completely upside down.
Tatiana Landon, one of the hottest talents in Hollywood, has been waiting for true love her whole life. When she meets Ian, she's certain she's finally found it…along with a passion that sizzles hotter than anything in her wildest dreams. All she needs to do now is find a way to convince him to take the risk of loving again.
Ian soon realizes that Tatiana is just as determined and focused on winning his heart as he is on locking it away. But when unexpected circumstances thrust them into a world where "real life" rules don't apply, will Ian finally recognize Tatiana as his one true love?