Levi's Ultimatum is Book 2 of the Purgatory Masters series by Eliza Gayle. I don't think you need to read Book 1 in order to fully enjoy the book but, as always, its usually better if you HAVE read them in order. My main issue with this book is that I really think it needed to be longer. There are a lot of issues going on with the main characters and it felt like they were glossed over a little bit. It was still a fun read but I guess I feel like it was lacking something or maybe it could have been even better than it was.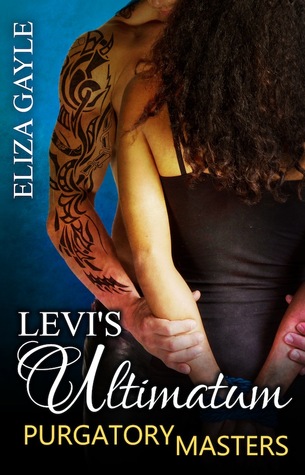 The heroine, Tori, is pretty likable. Mostly because he daughter is freaking adorable! I know a lot of people who really don't like to see children in romance novels but, if done correctly, they can add a whole new dimension to various characters. I think the author did pretty great with Hannah, Tori's daughter. She was as cute as a button and super precocious! I didn't get a really great sense of Tori but mostly because he back story was left as a question mark for most of the book. Also, she was employed at the BDSM Club as a Domme but in reality, she's a submissive?? And no one in the club realized that? Not these amazing Doms who instinctively seem to know who is what as they walk into the club!? But Tori works there for months, as a pro Domme AND as a waitress and none of them realize the truth? Or didn't they care? I doubt that seems the likely answer. So it was a little strange. Then, there's some kidnapping drama later on and it all seemed way too contrived, mostly because it was over so quickly. I know this sounds super bad but it really isn't. I'm just nitpicking. The story was pretty interesting, with Tori being a submissive working as a Domme. Tori's a great mom and she has pretty cool plans for her future – her own pie shop!!! Of course, I loved her for that but that might be because I would LOVE to have my own pie shop some day! But Tori was a pretty solid heroine and it was very easy to like her.
Levi, is of course, the hero. The author spends a bit of time at the beginning of the book inside Levi's head as he's scaling a mountain. I didn't get it at first and wondered what the hell she (the author) was trying to do. After I finished the book and started thinking about it, I realized. I had been thinking that Levi made a super fast change of heart from wanting to be alone, out on the road to wanting to settle down, establish roots and have a family. But that's the purpose of all that time inside his head at the beginning! He's coming to that conclusion and deciding that he wants all of that, for sure. So when I looked at it that way, it made a lot more sense to me. I wasn't exactly sure why he zeroed in on Tori but when you meet Hannah from Levi's point of view, its easy to see why he'd fall for the mom AND the daughter! After being treated as an outsider during his travels for so long and being treated with suspicion, having Hannah be so sweet and open with him just melts his frozen heart right away. So cute!!! Of course, Levi is your typical Dom, in that he's a bit demanding and likes to be in charge and he wears all of that so well. It was very easy to like Levi but some of his past is still a bit of a mystery and I wish I would have had more of it. But it sounds like that will be coming in the next installment…?
Levi and Tori are pretty hot together, not that they're together all that much. They spend quite a bit of the book away from each other, which was a little annoying but it totally fit in with the story so I can't really complain about that. I would have liked to see more of Hannah's interaction with Levi because they sure are a pair! The scene where Tori sees that Hannah has fallen asleep on Levi's chest was way too adorable and really made me hope to see more of that kind of father/daughter bond developing between them. But I didn't see any more of that. Maybe in the next installment? Who knows.
Anyone wanting a nice, sweet story, all self-contained and wrapped up at the end with a nice, little bow will be sorely disappointed. This is definitely going to continued into the book, which I assume is going to revolve around Mason (one of the brothers with Levi and Tucker [Book 1])and his reporter friend. I'm still not totally clear on exactly what Mason was trying to keep under wraps all this time. It might have been revealed in this book but I'm not sure because what WAS revealed didn't seem all THAT salacious to me. More of Levi's history, including his military service, would have been nice but I don't imagine that will ever be revealed. And maybe it doesn't matter. I think most anyone who enjoys erotic romance will still be able to enjoy this book at face value, as long as they aren't looking for more to the story.
Book Info:

July 8, 2013 by Smashwords
Levi's Ultimatum is book 2 in the Purgatory Masters series, Book 1 is Tucker's Fall and is available now.
In search of someplace to belong…
Levi Hawkins was a typical fun loving, hard partying college student with his whole life in front of him — until one tragic night ripped his world apart and left him adrift with no home or family to return to. After a soul crushing stint in Afghanistan, he spent a decade wandering the globe searching for something or someone to make him whole again. Weary of regret and consumed by loneliness, he puts his heart on the line and turns to the only people still connected to him by blood.
He found an obsession…
A chance encounter at a lakeside café puts single mother Tori Ford directly in Levi's path and he's ready to stake a claim. She wants to keep her life simple. Work hard, raise her daughter, save some money and one day open the pie shop she's always dreamed of. She doesn't need complicated and she certainly doesn't need a wickedly hot Dominant to take control of her future. Except when he touches her she yearns for the pleasure and passion of submission. But Tori can't take another heartbreak and she can never trust Levi with her heart or her daughter if he won't open up about the darkness slowly consuming him.