In Looking for Trouble (Jackson: Girls' Night Out #1) by Victoria Dahl, From the moment Sophie Heyer lays eyes on Alex Bishop, she knows she's in trouble. He's just the amount of naughty she's been looking for. He looks big and menacing, drives a motorcycle, has tattoos…and unfortunately he's the son of the woman who's been bemoaning her family for almost a quarter century. As soon as Sophie realizes Alex's father is the man who ran off with her mother so long ago, she should have turned and walked away. But he makes her feel free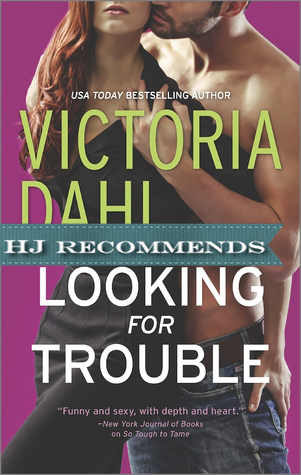 to step out of her shy persona and be the openly sensual woman she craves to show the world. Knowing he'll be leaving town soon, Sophie figures a little fun won't hurt, until the events that plagued their childhoods come back to haunt them both.
'She wasn't what people thought she was. She wasn't a shy, modest local girl afraid to venture far from home. She was naughty. She was wicked. And she loved it.'
When Alex Bishop came roaring back into his hometown for the first time in over a decade, he wanted to get his family obligations out of the way and get back on the road to his next engineering job. Meeting librarian Sophie Heyer gets him sidetracked. In a most pleasant way. Alex enjoys their quality time together until he figures out who she really is. By then it's too late to just shut off his attraction to Sophie, so he decides if they keep things quiet it won't be anybody's business but their own. Alex forgot one thing, though: nothing in a small town stays a secret for long.
'Jesus, she was hot. A ridiculous mix of primness and eagerness that made him want to own her, dominate her, but with a few "Yes, ma'ams'" thrown in out of respect.'
Looking for Trouble is a story where a scandal from twenty-five years ago not only still has hold of a small town, but it was also a defining moment for two local families who continue to feel the effects today.
Victoria Dahl's latest series set again in the Jackson Hole, Wyoming area is every bit as racy as her previous Jackson series. And this first full length installment is a continuation of sorts from her book Too Hot To Handle where Shane Harcourt had uncovered the truth about his father's disappearance years ago. Here, we see things from his brother Alex Bishop's POV as well as that of Sophie Heyer, whose mother had run off with their father. I know. What a tangled web. And believe me, it only gets more complex. But it's also a rather honest look at how life in small towns can be harsh on those left behind after such an event takes place.
I have to say that Alex and Sophie's chemistry was absolutely insane. Their romance scenes were so stinkin' hot they should have had a warning label on the book cover: NSFW! 😉 But seriously, I thought they were well suited for each other in an opposites attract kind of way. Alex was a big tough biker looking guy and Sophie was a prim and proper librarian. They both had a really tough childhood, thanks to his father and her mother, but they chose completely different methods of handling it: Alex by traveling constantly, and Sophie by devoting herself to taking care of her family. I thought it was really interesting to see how they worked through those differences to find their HEA.
I would recommend Looking for Trouble if you enjoy small town romances with a lot of family friction, and tons of intense attraction between the hero and heroine. Very sexy!
Book Info:


Published July 29th 2014 by Harlequin HQN
A good reason to be bad…
Librarian Sophie Heyer has walked the straight and narrow her entire life to avoid paying for her mother's mistakes. But in tiny Jackson Hole, Wyoming, juicy gossip just doesn't go away, so the last thing she needs is for history to repeat itself. Falling hard for the sexiest biker who's ever rode into town would undo everything she's worked for. And to add insult to injury, the sexy stranger is none other than Alex Bishop–the son of the man her mother abandoned Sophie's family for. He may be temptation on wheels, but Sophie's not looking for trouble!
Maybe Sophie's buttoned-up facade fools some, but Alex knows a naughty smile when he sees one. Despite their parents' checkered pasts, he's willing to take some risks to find out the truth about the town librarian. He figures a little fling might be just the ticket to get his mind off of family drama. But what he finds underneath Sophie's prim demeanor might change his world in ways he never expected.