Love, Lust and Lies by Cathleen Ross is a medium-paced short story, as well as a lesson in Italian history, language and tradition. The Australian landscape is a nice variation for the American reader. The opening chapter is a compelling, gut-wrenching narrative that captures your heart and soul. If you enjoy some spice, a little bit of comedy, and a solid story, give this book a shout.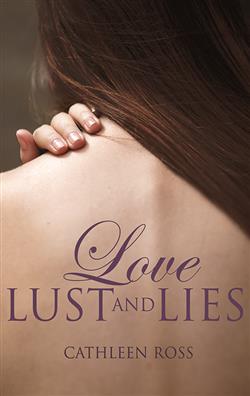 For forty-year-old receptionist Gabriella Vitadini, life with her husband Tony before the birth of their three-year-old daughter was happy and satisfying. Even after suffering through five miscarriages, they supported each other and loved each other deeply. Cami's birth was very difficult and Gabriella almost died. Tony witnessed the miracle of life and the near loss of life simultaneously. Their marriage was never the same after that. Tony withdrew from Gabby sexually and as a result, they have not had sex for three years.
Both Gabriella and Tony are of Italian descent and the rigid traditional ways of living causes many obstacles in their lives. Gabriella is heartbroken and devastated when she discovers that Tony has cheated on her. Italian culture dictates that she remain placid about the situation, but she is unable to do so and asks Tony to leave. Tony's dad was also a cheater and all is overlooked in that household. Family is very important and standing by your man no matter what, is the norm.
Gabby obtained her real estate license recently. Deciding to finally put herself first, she asks for a promotion and gets it. Her first client is Dave Angelo, a wealthy, almost thirty-year-old man who deals in marble. Dave is extremely good-looking and there is an instant attraction. Sex deprivation has made Gabby crazy and she ends up sleeping with Dave on several occasions. Dave makes her feel sexy and desirable, something she has not felt for three years. Guilt-ridden from her Italian-catholic upbringing, Gabby is having trouble coping, while Dave is falling in love.
During three weeks of separation, both Gabby and Tony have lived another lifetime. However, a gossipy community, an evil eye and the side affects of Viagra end up pulling them together. Luckily, love and true honesty prevails.
Book Info

Publisher: Escape Publishing Date 09/20/13
Family, friends, culture, and expectation clash in this heart-wrenching story of a broken marriage — and the battle to repair it.
Gabriella Vitadini thought she had the perfect marriage until her husband Tony stopped wanting her, and started wanting other women instead. Throwing him out of the house was the only thing she could do — how does she throw him out of her heart?
When a much younger man reminds her that she is still a desirable woman, Gabriella reminds herself that turnabout is fair play. But even a naughty fling can't eject Tony from her thoughts. What happened to their happy marriage? Why did Tony turn away from her? And is there any hope that they can find true love again?