Madeline's Christmas Wish by Ella QuinnAt around 30,000 words, "Madeline's Christmas Wish" is classified as a novella. However, the pacing, complexity of plot, and multiple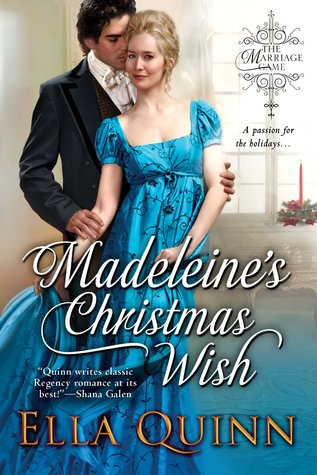 characters give this novella the feel of a full novel.
It is interestingly set in France in late 1814, after Napoleon was exiled to Elba Island, in the brief period of peace during the first restoration of King Louis XVIII, and before Napoleon escaped from Elba and the Battle of Waterloo. A time period that isn't used a lot in historic romances makes this an intriguing aspect of the book.
Madeline is the Comtesse de Beaune, the head of her family because her father and brother were both dead. The rather creepy Monsieur Coupe has been placed as an overseer to her work as the head of the local wine growers, and has been making rather overt hints towards marrying her. However, Madeline has made it quite clear that she is uninterested in marriage with him. A few weeks later, without warning, rough-looking men appear at the door and attempt to steal away her younger sister Genevieve. There is a letter from the French government, saying that they are looking for young woman to work in brothels in England to spy for the glory of France. Madeline volunteers in her sister's stead, and swears to her mother that she will be back in time to celebrate Christmas together. When the ship that Madeline is on arrives in England, she is rescued by Georges, the Marquis Cruzy-le-Châtel, childhood friend and intended betrothed before the war. Georges had escaped to England with his family, and worked as an English spy during the war. She is interrogated, determined not to be a spy, and Georges takes her to his home to be with his mother and sisters. This, of course, is the point where things get interesting! Georges intends to marry her to keep her safe, while Madeline is determined to return to France and take care of her land and family. Travel, romance, bad guys and lost loved ones are just some of the things that come to Georges and Madeline on the way to fulfill her Christmas wish.
Safe! If only he knew the truth. She hadn't been truly safe in years, and if he thought she would not be involved in discerning the truth, he had better think again. Madeline was, after all, the head of her family now. It was her duty to protect them, and keep her promise to be home by Christmas. But how? If only she knew what to do.
The main problem with a novella that reads like a full-sized novel is that it did drag in parts for me. There were many characters, some that probably come from other "The Marriage Game" books, and I found it easy to get a little lost (as part 5.5 of Ella Quinn's "The Marriage Game" series, the main characters are loosely affiliated with other characters in the associated novels). However, the last third is quite good, and made me happy that I stuck with it. It's not as Christmassy as other holiday books are, but it does leave you with a warm feeling and there's no reason why "Madeline's Christmas Wish" cannot be added to your holiday bookshelf!
Book Info:

Published October 27th 2014 by eKensington (first published August 14th 2014)
A French spy, Georges, Marquis Cruzy-le-Châtel, has lived in England for years, sacrificing his life for his country—but not his heart. For he's never been able to forget his childhood friend, Madeleine. And now, in her hour of need, he is there to rescue her…
The victim of a ruthless statesman, Madeleine, Comtesse du Beaune, has been abducted and sent to England to work in a brothel. Her greatest wish is to return home for Christmas, and her only hope of it is to marry Georges—though she will be his wife in name alone. Yet as they steal across the snowy countryside, Georges decides to woo her—with kisses that melt the winter's frost and leave her longing for a holiday miracle…