Make Me Stay by Sidney Halston: Lawyer Matt Moreno loved June Simpson. When the club he owned with his twin brother Nick and his father, Victor,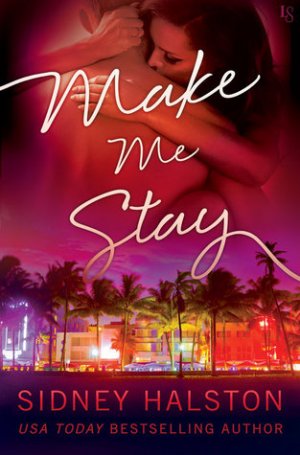 was raided and all three were arrested, June disappeared without a trace. A year later he runs into a woman in a coffee shop that sounds like his June but looks nothing like her. Then he turns on the news and discovers that June was actually Detective April White, the woman responsible for the raid at the club, the woman responsible for him losing his job at the law firm.
April feels bad about deceiving Matt. She knew he wasn't responsible for the shady dealings happening at Panic. Despite her best efforts, she had fallen for him during her time undercover. Now that her assignment's over, she hopes that maybe he'll find it in his heart to forgive her. Matt is understandably angry and wants nothing to do with her, but when April is attacked and needs someone to take care of her, Matt feels compelled to take care of her, even though he battles between wanting her and still being angry at her.
For the most part I liked Matt, although he did a couple of things that I thought was a little over the top. I did find it admirable that even though he was hurt and angry by April's deceit, he was still willing to take care of her after the attack. I also felt badly for him because he was so conflicted.
This vulnerable April–yeah, I don't know how to navigate this. and I'm not supposed to upset her. So I can't say to her what I really want to say: You're a liar! That's why I don't know whether you like coffee or not! I barely know your real name! All those things would upset her. But the person I really want to yell at is June. April, not so much. It doesn't make sense, yet it does. It makes my head spin.
The book covers two time periods. It starts off in the past, so readers get to see how April first met Matt and how their relationship built up over the months. It then moves to a year later when April comes back into his life. Readers get to watch them build up a relationship twice. The relationship they previously had and the relationship they have to rebuild as they people they were a year later.
This is the second book in the series. The first book features Matt's twin, Nick. Nick is in this book as well, both in the past and the present sections. Not having read the first book but having seen how surly Nick could be in the past section of this one, I was surprised how quickly he accepted April's presence back in Matt's life. He seemed to forgive April much faster than Matt.
Make Me Stay is about second chances and forgiveness. I would recommend it to those readers who enjoy second chance romances.
Book Info:

Publication: June 27, 2017 | Loveswept | Panic #2
April: Walking away from Matt Moreno was the hardest thing I've ever done. Lying to him was a close second, but for his safety, I had no other choice. I was undercover, working to put some nasty people behind bars. But when Matt nearly recognizes me on Lincoln Road a year later, all those very real feelings come rushing back. Now that my assignment's almost over, will he understand why I lied? Why I had to leave? Most important, can he ever forgive me?
Matt: I was madly in love with June Simpson . . . or, at least, with the woman I thought was June. Then she just disappeared while my family's nightclub went through hell. And after months of searching, when I think I've finally found that sexy, raspy voice and those exquisite blue eyes, she slips away once more. Turns out, "June" is actually Detective April White. She's been playing me the whole time. And she's about to rock my world all over again.