Make Me Yours by Katee Robert is the latest steamy romance in her Make Me series, this time tackling the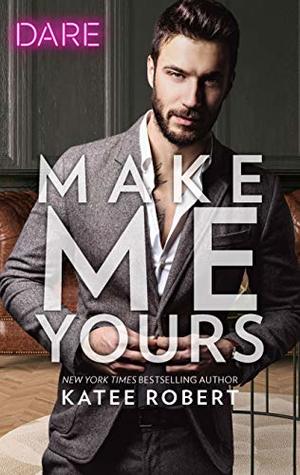 consequences of an unexpected pregnancy.
When Becka meets Aaron at her sister Lucy's wedding to Gideon (see Make Me Want for their story), she's definitely up for a sizzling one night stand with the handsome and wealthy businessman. She sets the boundaries from the start, being clear that she's only interested in one night and Aaron agrees. So when she's gone in the morning Aaron harbors some regrets but resolves to try to forget about the woman who knocked his socks off. (He's not very successful).
Three months later, Becka's call out of the blue is in indication that something's up – and sure enough, she's not calling for seconds. No, she's pregnant! Once Aaron sees the state of her run-down apartment, concern for her and the baby has him insisting she move in with him while they figure out what to do. In close quarters it doesn't take long for them to rekindle their passion. But can Aaron convince Becka that they'd be good together permanently?
I enjoyed this story! Becka is a feisty, determined woman. The pregnancy has thrown her off her game a bit, though she still intends to keep up with her fitness instruction job as long as she can. What she isn't interested in is marriage, after watching her parents disastrous attempt at a relationship. It had fallen to Becka's sister Lucy to be her caregiver and even though Lucy, and her best friend Allie, have found caring and supportive men Becka's not interested in anything permanent.
Most of the story deals with Becka learning to trust that Aaron is sincere in his desire to be there for her and the baby. Since he comes from a more stable family background, she doesn't think he can really understand her objections to marriage. Aaron's actions speak louder than any words he could use to convince her that he wants to marry her because of who she is and how he feels about her, not just because of the baby. Eventually she comes to realize that a life without Aaron as a true partner would cheat her out of a real chance at happiness. They get a satisfying, sweet ending. It's an enjoyable and sexy read, and another great addition to the Make Me series!
Book Info:

Publication: May 01, 2019 | Harlequin Dare | Make Me #3
I didn't get to be CEO of a New York tech company by chasing whims…or women. But when wildly beautiful, fiercely independent fitness instructor Becka Baudin caught my eye across a crowded wedding reception, my body reacted with a will of its own.
She wanted a sexy distraction—one night of lust in a glamorous hotel. And I was happy to oblige. Then, after the most amazing night of my life, she walked away—leaving me wanting so much more. I haven't been myself since that night. My work is suffering. My social life is nowhere. All I think about, all I dream about, is her.
Three months later, she told me. A baby. My baby… I insisted she move into my Manhattan penthouse. Now I see her every day. I crave her every second. I long for her touch, her kiss, her body moving under mine. I know if I try to cage her she'll fly away. How can I convince a wild thing to stay in my life, in my heart, forever?