In Map of the Heart by Susan Wiggs, Camille Palmer Adam's world was shattered five years ago with the sudden loss of her husband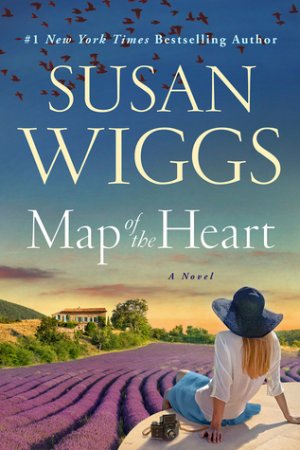 Jace. Her now fourteen-year-old daughter Julie has been her only saving grace as she's tried to move past the worst of her grief. But Camille knows she's only succeeded in holing up in her darkroom, working on photography jobs and never really leaving her safe little beachside community in Bethany Bay. It takes the arrival of Professor Malcolm "Finn" Finnemore into her life along with a request from Camille's father, Henry, to travel to his hometown in France for her to finally move outside her safety zone.
"Both of you had horrible things happen to you, and you refuse to talk about it."
"That is a very good point. How did you get so wise?" asked Henry.
"I'm fourteen. I know everything." Julie sniffed.
On their own personal journey to find out more about her father's parents during World War II, Camille, Julie and Henry make their way to his family's estate in France. It turns out to be a summer of second chances and new experiences for them all. Camille meets up with Finn, who is there teaching, and loses her heart to him more and more each day. Finn in turn falls for Camille while helping her research her father's family secrets. Julie immerses herself in the French culture and feels like herself for the first time in five years. And Henry discovers his true roots along with the sad but inspiring story of his mother, Lisette.
"Why, Madame Adams, is that your way of asking me on a date?"
"My…what? No."
"It is, too, and I accept. Where would you like to go?" He grinned. "Don't give me that look. You're in Provence, Camille. Things are going to get romantic whether you like it or not."
Heartbreakingly beautiful, Map of the Heart was another captivating piece of fiction from Susan Wiggs. A dual storyline set in WWII-era France and then in Bethany Bay, Delaware in the present time, we followed two couples who each faced serious challenges and seemingly insurmountable odds.
'Her feelings for Finn were messy and intense and gloriously real.'
Possible trigger warning: Adultery, brief thoughts of suicide, bullying.
Susan Wiggs is one of my go-to authors for women's fiction/chick lit. She always writes a heartfelt story and also frequently incorporates historical elements that add another layer to her character's lives. In this case, we moved back and forth between the 1940s and modern day. Now I will say that the portions of the book set during WWII–Lisette's journey–were tragic and rather bleak at times as you would expect, but they still had some wonderful moments of joy and hope as she fell in love and helped fight back against Germany in her own way. I personally am interested in that particular time period so it really resonated with me. And I especially loved how Wiggs was able to weave together the characters from both eras and had it all culminate in a way that brought tears to my eyes, it was so lovely.
There were several characters to keep track of but it was fairly easy with the way Wiggs plotted everything out. Camille, Julie, Finn and Henry were our focus in the present day. And Henry's mother Lisette was the main character from the 1940s. I think widower Camille will likely be the character that readers may take some issue with, if they do with anyone. I truly liked her overall and thought she was dealing with her grief the best way she knew how, but she was a bit overbearing when it came to her daughter's life and safety. And I got it. After Camille lost her husband tragically, I understood her fears. But Julie entering her turbulent teen years needed a bit of freedom and didn't need her mom freaking out over everything.
Finn coming into the picture was a breath of fresh air for both Camille and Julie. Things started off rocky between him and Camille, and I actually wasn't sure I would like Finn because of it, but he added playfulness to her life and offered a new perspective on her situation. I got a kick out of Finn for the most part and thought he was more of a beta hero than alpha. (I do like a good beta hero!) He had his own tough past to deal with and I loved that he was such a caring guy, helping others find out what happened to their family members who were MIA during the wars. A job that was very personal to him and his family.
With a tearjerker ending that will definitely pull at your heartstrings, Map of the Heart turned out to be an epic story that was compelling and kept this reader enthralled right from the start.

Book Info:

Publication: August 8th 2017 | William Morrow |
Susan Wiggs—an author "who paints the details of human relationships with the finesse of a master" (Jodi Picoult)—returns with a deeply emotional and atmospheric story of love and family, war and secrets that moves back and forth across time, from the present day to World War II France.
An accomplished photographer, widow, and mother, Camille Palmer is content with the blessings she's enjoyed. When her aging father asks her to go with him to his native France, she has no idea that she's embarking on an adventure that will shake her complacency and utterly transform her.
Returning to the place of his youth sparks unexpected memories—recollections that will lead Camille, her father, and her daughter, Julie, who has accompanied them, back to the dark, terrifying days of the Second World War, where they will uncover their family's surprising history.
While Provence offers answers about her family's past, it also holds the key to Camille's future. Along the way, Camille meets a handsome American historian who stirs a passion deep within her she thought she'd never experience again.