Married For His Heir by Sara Orwig: Is a child enough to overcome the feeling of loss?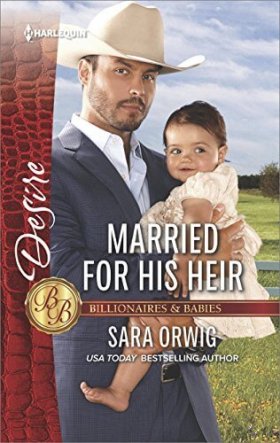 Talia Barton had lost many things in her life. Her parents, her two miscarriages and her marriage were all gone. Then her best friend dies leaving her little baby girl. Now she faces the worst thing in the world, the state says she has no rights to this child and she has to make a call. Will she find her little girls father? Or will she let the state have her? Really is there a call?
Nick Duncan knew loss and because of it he was NEVER going to love again. He couldn't, it hurt to much and he was not going to put himself through that again, not by choice. So when he gets the surprise of a lifetime he has no idea how to handle it. He will handle it though and if everything goes as planned his life will never be the same again.
Talia and Nick now have a baby girl to figure out how to raise and interact with, how can they make this family work when love isn't supposed to play a part?
Ummm yeah, this is not a typical novel from Ms. Orwig and it is honestly hard to read because of it. Nick is hard to like or respect, even though there is a part where you can feel for him and some scenes he is in are written so amazingly, overall he is just a jerk. Talia on the other hand is weak and so the opposite of what she starts out as, in the beginning the potential is there and then it just dies. Honestly the plot has potential and if it were written in her usual style I think it would be amazing, but this one is a miss.

Book Info:

Publication: March 1st 2018 | Harlequin Desire |
Mills & Boon Desire series delivers powerful, passionate romances…
A billionaire, a baby and a bride of convenience?
Oil baron Nick Duncan swore off entanglements of the heart after his wife's and son's untimely deaths. So when Talia Barton introduces him to his orphaned daughter from a grief-fueled fling, he knows he's in trouble. Talia won't let the motherless child she's been caring for become a ward of the state. But she never expects the handsome Texan to propose marriage…and actually mean it!