In Mine to Keep by Rhenna Morgan, Bonnie Drummond knows she's in over her head when her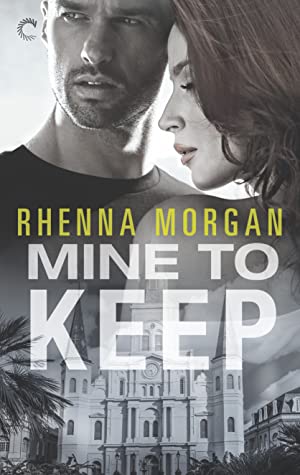 brother has her hide in a closet when someone arrives at her father's house. After hearing a struggle, she emerges from her hiding place to find her brother and father gone. She reaches out to her friend Cassie, who's in a relationship with a member of a New Orleans Russian mafia family. Cassie arrives with their enforcer, Roman Kozlov, in tow.
Roman initially wants nothing to do Bonnie, but he quicky changes his tune and decides she's under his protection. While he doesn't feel like her family deserves to be rescued since they put her in danger, he's determined to find them because it's what Bonnie wants.
As they race to find answers, they find the chemistry between them grows. But Bonnie is from the wrong side of the tracks and doesn't feel like she fits in with the wealthy members of Roman's "family", and Roman has secrets from his past that he feels will scare Bonnie away.
Roman is a take-charge alpha male from the get-go. He often overrides what Bonnie wants, but it's always because it's what is for the best, not because he didn't care about her feelings or opinions. Underneath his gruff exterior and shady past, he's a sweet man that does whatever he can to make Bonnie feel comfortable. He didn't always have money, so he understands where Bonnie is coming from and her embarrassment about it.
Bonnie is an interesting blend of strong and vulnerable. She never gives up on her father and brother, although they do nothing but drag her down. She's not afraid to stand up to Roman, someone most other people would be afraid of. She's also reluctant to accept help, because she's never had anyone in her corner before, and she's ashamed to admit where she's from and her family's circumstances.
It's clear Roman's "brothers" care a great deal about him. As soon as he declares his intent to help Bonnie, they don't hesitate to jump in and help in the search. They also do their best to make Bonnie feel comfortable in her new world.
This is the third book in the NOLA Knights series, but it can be read as a standalone. I have not read the two previous books and had no issues following along with the characters and the storyline. I do, however, want to go back and read the previous books now to read more about the other members of mafia family; they seem like an interesting group.
The book had my attention from the first page and held it to the last. With well-written characters, an interesting plot, and plenty of action, fans of romantic suspense are in for a treat with this book.
Book Info:

Publication: December 14, 2020 | Carina Press | NOLA Knights #3
Bonnie Drummond is from the wrong side of the tracks, raised in a family of liars and criminals. No matter how hard she tries to stay on the straight and narrow, she always finds herself sucked back into the family drama, forced to sacrifice everything she's earned to protect her family.
But this time they've gone too far—crossed the wrong people—and to save them she'll have to put her life on the line.
Roman Kozlov, enforcer for a New Orleans mafiya family, is the poster child for the life Bonnie is struggling to escape. But he's also as alluring as he is dangerous, and it doesn't take long for their lives to begin to mesh.
With Roman, Bonnie finds the family she never had.
As their race for answers heats up, so too does the budding romance between them. And with danger nipping at her heels and love threatening her heart, Bonnie must come face-to-face with her past if she wants to have a future.