In Model Behavior by Tamara Morgan, Supermodel Livvie Winston has cherished her friendship with real estate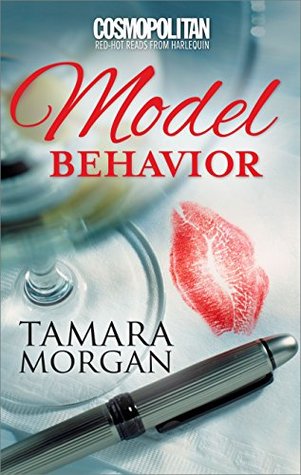 developer Ben Meyers for five years. He's one of the only men in her life who looks beyond the clothes and lifestyle to see the person inside. She'd be lying if she said she had never noticed the sparks of attraction between them, though. That's why Livvie wrote The List, seven tasks she came up with three years ago while she and Ben were drinking in a NYC bar. The tasks must be completed within twenty-fours hours and once done, Ben can have anything he wants from her. So when the day finally happens, when he makes his intentions clear, Livvie's fears of losing their friendship forever becomes a reality.
"You brought the entire world to a halt for one day so you could prove to me that we'd be good together, pulled out all the stops to get what you want just like every other man in my life. But what happens when the world starts turning again?"
Ben has tried every subtle trick in the book to make his feelings for Livvie known. But either she's ignoring it or she's not ready to deal with it all yet. That's why he digs out The List and changes the game five years into their friendship. He can't go another day without taking the chance on what he feels could be the most real, perfect love of his life. As a businessman, Ben is used to forming a strategy and getting what he wants in the final outcome. But with Livvie, he knows things won't be easy or go as planned. But that might just be half the fun.
"I'm sorry, Livvie, love, but you've forced my hand. By this time tomorrow night, I'll have satisfied all your obligations."
"Don't say it."
"And then it'll be your turn to satisfy mine."
Model Behavior is a novella all about Livvie and Ben, best friends, who had to face the facts that there was more than friendship between them. With a set of seven tasks to complete before he could make Livvie his own, Ben began the process hoping the end result would be lasting love.
I truly enjoyed the unique idea behind Model Behavior. The list Livvie (drunkenly) created, I thought, was a way to keep Ben at arm's length and hold on to the friendship that meant so much to her. Even if they both knew their true feelings were so much stronger than mere friendship. There was a lot of fun bantering that went on between the two of them, some of it playful and some of it fraught with anger or frustration. I'm not a huge fan of manipulative characters, and Livvie certainly had her moments in this story, but overall it felt like she was really just protecting herself from getting hurt; not that it was being done maliciously, so I didn't mind that part of her personality. Although her anger toward Ben for having been born into his wealth and for working hard to stay successful did give me pause a few times.
Ben turned out to be such a sweetheart of a guy. I thought it spoke volumes that he waited five years before pushing the situation a bit, giving Livvie time to either make a move or talk about the elephant in the room. Ben had given everything a lot of thought and made plans he hoped would help Livvie feel secure and protected. I won't spoil the story with the details, but he really was a romantic guy. And the whole story about the monarch butterfly. Well, that was just one of those "awwwww" moments that was quite touching to read. I usually enjoy a friends-to-lovers trope, and I must say that this one worked pretty well, even though it was a short story. The plot moved along at a nice pace, not too fast, with just enough details to paint a nice picture for us readers.
Model Behavior was a solid romance with a good dose of heat and fireworks between our two lovebirds. If you're looking for a quickie, er–quick read, this Cosmo Red-Hot Read might just be for you.
Book Info:

Published January 13th 2015 by Cosmopolitan Red-Hot Reads from Harlequin
Seven tasks. Twenty-four hours. And one chance.
The moment her best friend, Ben Meyers, drops his phone into her drink, model Livvie Winston knows The List has begun. Seven tasks, each more difficult than the last. If Ben completes them in twenty-four hours, Livvie must abandon her strict friends-only rule for one night of reckless, wicked sex with the most delicious man she knows…
The first tasks are easy. Order the cheapest thing on the menu. No cell phone for twenty-four hours. No ogling Livvie's model friends. Check, check, check.
But when Ben heads to the tattoo parlor, Livvie realizes that Ben isn't just playing for one night—he's playing for keeps. Livvie won't sacrifice this friendship for anything—even for a night of enjoying this incredibly sexy man in every naughty position imaginable. And she'll do whatever it takes to protect their friendship and her heart, even if it means beating Ben at his own game. Even if it means playing really dirty…