Need Me, Cowboy by Maisey Yates is the sixth story in her Copper Ridge: Desire series where cowboys and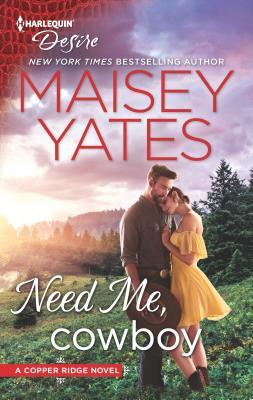 ranchers meet strong women who confound and inspire them in sexy and thoroughly entertaining romances.
Faith Grayson is an accomplished architect and key to her family's business success in custom designing homes based on her designs. But she's tired of her older brothers viewing her as their little sister and not a grown woman who can make her own choices, and her own mistakes. When Levi Tucker contacts her about designing his brand new hill-top home she knows her brothers wouldn't approve of her taking the job. But that doesn't stop her from doing it anyway.
Levi has just been released from prison for a wrongful murder conviction – wrong, because his ex-wife whom he was accused of murdering isn't dead. She'd disappeared one day and not returned, living high off of his money while he'd gone to jail until proof of her existence got him his ticket out. Now he wants to hire the best architect to design the best house money can buy, to flaunt over his ex and the townspeople who were so quick to judge him guilty of a crime never committed. Faith is the right woman for the job. But will she also be the one to mend his heart for good?
I really enjoyed this romance and these two opposites attract characters! Levi is older than Faith by several years, a hard and somewhat bitter man finally enjoying the freedom he deserves. His upbringing was already harsh with an alcoholic abusive father and growing up on the wrong side of the tracks, so no one thought anything of him going to jail. Meeting Faith is like seeing a light at the end of a dark tunnel. Their attraction is immediate and even though Levi thinks Faith is too young and too innocent for him, he can't resist the pull to her and her desire for him. Their love scenes are very sexy! They agree to a secret affair that will last for as long as she is working on the design of his home.
But Faith soon finds that Levi's hard outer shell masks a man who has experienced too much pain and betrayal. His difficulty in trusting anyone is a consequence of those experiences, but it doesn't stop her from falling in love with him and wishing for more, even knowing it may push him away. She challenges him to think about whether he wants to spend his future exacting revenge or moving forward with her. She also learns to stand up to her family, knowing they only want what's best for her but needing them to see that she needs to have some independence from them to be truly happy. Levi an d Faith get a well deserved happy ending and a sweet epilogue. Once again, my visit to Copper Ridge has been a satisfying and enjoyable experience!
Book Info:

Publication: Apr 01, 2019 | Harlequin Desire | Copper Ridge
He's not a man to be played with.
Not without consequences.
For five years, Levi Tucker had no control over his life, locked up for a crime he didn't commit. Never again would any woman—any desire—overtake this cowboy's common sense. Now Faith Grayson, the sexy, brilliant architect he's hired to design his grand new house, is sorely testing his resolve. Faith is too young. Too innocent. Maybe just too tempting.