Need You (The Garner Brothers #1) by Stacy Finz with police chief Colt Garner fighting over a parking space with his neighbor, fashion designer Delaney Scott. Both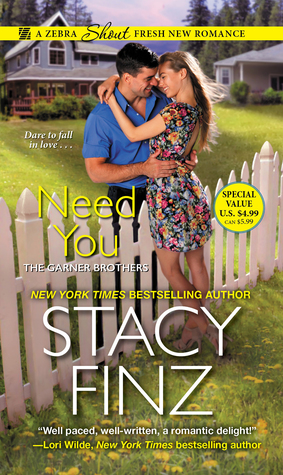 are recovering from their former significant others having taken something important from them. Now Delaney is in town to try to get her design inspiration back, while Colt is in danger of losing his job because the mayor doesn't like him. Delaney has plans to eventually leave town, but the more time she spends with Colt and his family, the more she starts to wonder if the small town of Glory Junction is where she's meant to be.
I liked Colt and Delaney. Because of their past hurts, neither was interested in a relationship, especially with each other. She thinks he's an uptight cop giving her problems over their shared driveway while he views her as a stuck up rich woman determined to get her own way. There's an entertaining animosity between them at first, which thaws as they get to really know and understand one another.
Colt has a great love for his job and his family, although I felt both his job and his family took advantage of him at times. He only got one day off a week, and his family often roped him into doing jobs at their Garner Adventure operation. It seemed like they just assumed he would have no problem giving up his one day off to help out, and they didn't seem to take him and the fact that he was exhausted into consideration.
"I thought you were hiring more guides."
TJ let out a breath. "We did. We're still having trouble keeping up with the amount of business we're getting."
"Try harder."
"Working on it. So, can you do it? Come on, I went to your show. That's three hours I'll never get back."
Colt swung his feet off the bed and scrubbed his hand through his hair. "Yeah, all right." He'd fit it in somehow. "I hope you can afford the three hours for my funeral when I die of sleep deprivation. Maybe do a eulogy, if it's not too much trouble for you."
It was clear that the mayor didn't like Colt because Colt did what was in the best interest of the town instead of bending to the mayor's demands. There was a twist involving the mayor which I enjoyed, and it was good to see that he got what he deserved.
While this is the first book in the series, there is a novella about Colt's brother Josh. After reading about him in this book, I'd like to go back and read his story. I'm also looking forward to reading about the rest of the Garner brothers.
If you enjoy small town romances and the opposites attract trope, I recommend giving this one a read.
Book Info:

Publication: July 25, 2017 | Zebra Shout | The Garner Brothers #1
Colt Garner thrives on adrenaline. As Glory Junction's police chief and the co-owner of Garner Adventure, he knows where to find danger and excitement. Unfortunately his new neighbor, fussy, transplanted city girl Delaney Scott, is anything but a thrill, even if she is as gorgeously curved as a killer ski slope. They have nothing in common but a shared driveway they're arguing over . . . and a mutual attraction neither of them can fight.
Starting over was not in designer Delaney's plans. But now that her rotten ex has walked away with the rights to her brand, she needs to reinvent herself, and fast. It's not easy with bold, brash Colt next door, too handsome for his own good, and, she's sure, too unreliable for hers. But as small town life throws them together again and again, Colt and Delaney find that simple romance may be the most exhilarating gamble of all . . .